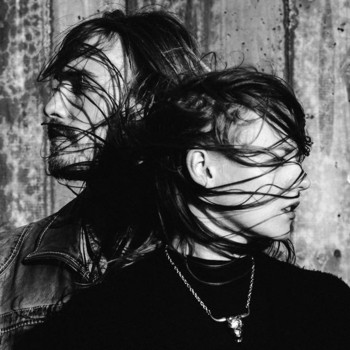 'And now for something completely different'. We've written that Wolf & Moon are the band who are going to make folk music cool again, but we're instantly aware that many people – the band included – wouldn't identify Wolf & Moon as being a folk act at all. They're an act who hark back to the classic days of rock, and there's a pinch of bluegrass and heartbreak to their musical and lyrical style, but they're surprisingly hard to pin down into a genre.
Even calling them a band is something of a stretch; they may work with other musicians (and have done so in the production of their debut album), but at their core, Wolf & Moon are really just two people, known only as Stefanie & Dennis. It's taken them a couple of years to reach the point where they're ready to publish their debut album, and they've been making use of that time to travel the world, picking up musical styles from wherever they find them. Their own description on their Facebook page gives their style as 'folky pop with electronic sprinkles', but even that airy description feels too vague. There are elements of indie-rock, classic folk and good old fashioned rock and roll in their style. Take a listen to their track 'Home To Me' (and watch the delightfully cinematographic video while you're at it), and you'll pick up hints of everything from the Magic Numbers through to the Smashing Pumpkins, with a pinch of Peter, Bjorn and John in there for good measure.
There are all sorts of spiritual connotations to a name like 'Wolf & Moon', and in our minds it conjures images of canyon and prairies, where wild wolves howl at the moon under cover of darkness. The wolf can be a savage animal when the mood takes it, but you won't find much in the way of aggressive bite in 'Before it Gets Dark'. This is no big bad wolf from the stories you were told when you were young; the folklore character that went on to be the star of the popular Big Bad Wolf slot game! Listening to the album actually has more in common with playing that slot game than it does with the original nursery rhyme; the big bad wolf slot is actually quite cute and charming, and is in the end more about the adorable characters on the reels than it is about the sharp-toothed menace stood to the side of them. In the same way, this album has a dreamy, innocent sense of wonder that's both soothing and refreshing at the same time.
If we had to use one word in particular to use as a theme for 'Before it Gets Dark', we'd say 'layers'. Whereas the sound of two musicians can easily become empty if left exposed on a recording, the producers of this album have worked overtime to give us a complex and swelling symphonic experience. Instruments work in perfect harmony, combining to bring perfect musical notes of light that complement the expert harmonies that Stefanie and Dennis have crafted. The two have an adorable habit of sharing each other's lines, and mesh well together in a style that could only have been crafted with extensive experience out on the road.
With any musical act, it's hard to know what's real and what's not (we still can't get universal agreement on whether the White Stripes were really sister and brother or man and wife all these years later), but based on their social media posts and their stage performances, we assume that Wolf & Moon are a romantic couple. Equally, that could all be part of the act and the charm. In the same way, we can't even say for sure where they come from. It would be easy to presume they're American, but their official web pages list them only as a 'traveling' act. They seem to spend a lot of time in Europe, and Germany especially, but there's no sign of anything in their tour history that would suggest a solid base of operations. The impression we're left with is of a pair of free spirits, citizens of the world with a musical style that's been derived from all corners of it.
There's even a carefree attitude to the layout of tracks on 'Before It Gets Dark'. Whereas some recording artists will commit themselves to a theme, or an ordered ebb and flow of tracks from one to the other, 'Before It Gets Dark' goes where it pleases. From the moment that the opening track 'Before' soars into life, you're on a whistlestop tour of sounds and styles, with deceptively energetic instrumental work underpinning what on the surface seems like a tranquil and peaceful song. This ability to make the complex look simple is a recurring theme throughout the album, which has many minor triumphs but peaks with 'Getaway', which should be under consideration as a single in case anyone's listening. As with 'Before', this is a song that was probably simple in composition, but has been elevated to something much more dramatic by the layering that's taken place in production.
The gentle adjustment between high and low, accompanied by the intentionally wistful dreamscape of the band's style, can have an almost hypnotic effect if you listen to it all in one sitting. Much like visiting a spa for a good massage therapy session, the music washes over you and induces you into a state of contentment, allowing your mind to slip away to a world where time is immaterial. You'll notice two things by the time you reach 'Wildebeest', the album's final track. Firstly you'll notice that it's the ideal end of the journey, and secondly, you'll realize you've completely lost track of time.
'Before It Gets Dark', much like the duo who wrote it, is graceful and elegant. It manages to strike a perfect balance between the old and the new without compromising either, and it could only have been written by a band who've taken their time to grow and learn before committing themselves to the creation of a full album. It's available to stream on all good services from January 25th.