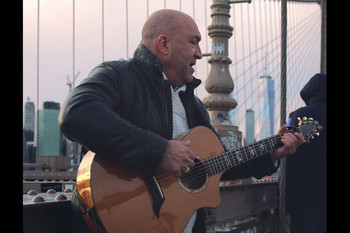 "Love True Just For You" is quintessential John Tracy: a perfect encapsulation of everything that makes his songs and videos as inspirational as they are. It's a tale of perseverance in a world where it sometimes seems like love is impossible to find. Keep searching, the singer promises us, and the right person will appear. The combination of patience, poise, hope, and encouragement is distinctively John Tracy, and unless you've got a heart of stone yourself, you're going to be moved by the purity of it.
It helps that Tracy is such a strong, empathetic singer and acoustic guitarist. From the very first chords, "Love True Just For You" feels timeless; by the final chorus, we'd wager that you'll be singing along. Those who've been following John Tracy for the last five years will recognize his sturdy compositional construction, bell-clear sound, winsome melody, and magnetic performance. Those who are late to the party may have just made a new favorite.
http://www.johntracymusic.com/
"Love True Just For You" was inspired by Tracy's daughter and the obstacles she's encountered in her own search for love. To bring this narrative to life, Tracy shot the video in a place that combines anonymity with romance better than anywhere else on earth: Midtown Manhattan. We watch the main character stumble through her encounters and persevere when things get tough; we root for her all the way to the happy ending. As for Tracy himself, he stands on the Brooklyn Bridge with his acoustic guitar, singing words of hope to lovers everywhere. He's the narrator, the troubadour, a master of ceremonies who sings from personal experience, imparting wisdom to everybody willing to listen, and open his or her heart.