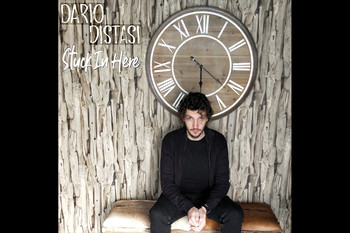 Dario Distasi is the best kind of new artist – one with the energy of youth, but the poise, savvy, confidence, and musical skills of a veteran. Tough as it may be to believe, "Stuck In Here" is the Manchester, UK rocker's first proper single and video. Premieres this polished don't come along often, so it's no surprise that Distasi's music has already been celebrated on both sides of the Atlantic. It's the first sounding of a voice that's sure to be with us for a long time.
"Stuck In Here" demonstrates Distasi's firm grasp of the basics: it's got a rock-solid beat, a passionate performance, an intriguing atmosphere, and a lyric that's subtly evocative. The new track fulfills the promise Distasi showed on Nowhere Avenue, his independently released EP, and a furious, focused collection of modern rock songs. Award-winning Nashville producer Drew Middleton toughened and deepened Distasi's sound, and gave his uncompromising vocals and searing six-string (Distasi distinguished himself as a flexible and acrobatic guitarist before he became a frontman) plenty of room to shine. The result is a song that grabs hold from the very first bar and doesn't let go until the final chord rings.
It's also a song that any young person can relate to. Distasi is singing about stagnation in relationships, and while he leads with his candor and pulls no punches, there's an undercurrent of tenderness and sympathy beneath the frustration. To make the clip for "Stuck In Here", Distasi has turned to another fiercely independent Mancunian artist with a taste for dark storytelling – Mat Johns, writer-director of the lauded apocalyptic short movie A Father's Day and the moody travelogue Run. Johns, who makes documentaries and films as well as music videos, brings his own peculiar sense of color, light, pacing, and drama to Distasi's debut clip. His tale of troubled lovers is engrossing – but he never fails to make the band look terrific, too.