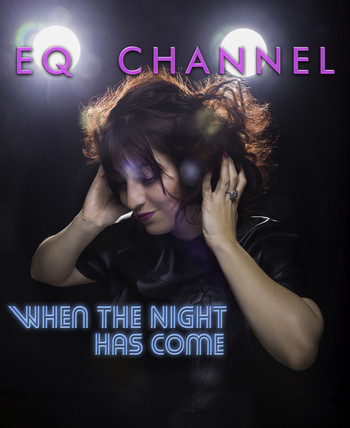 Hailing from the exotic country of Colombia, EQ Channel is working hard to plant her musical seed in America in a unique way. There have been other successful Colombian women who have taken America by storm like Shakira. EQ is on a similar mission and has already begun to slowly find her way in the saturated market of the industry.
She has already released an EP and two albums. EQ received her formal musical training from the Julliard Music School where she studied Electronic Music Production and Film Scoring. Even though she has a love for electronic music her first EP "As I Loved You" was a mix of jazz, pop and folk. EQ always tries to be unique in her approach to music and fusing different genres of music is one of her goals. Coming from a foreign country and taking on the English language is never an easy task but EQ found the language of music to be universal.
EQ was inspired by such legends like Madonna and Selina growing up. Both of these women had a complex road in their musical journey to stardom. EQ respected the fact that both of them had more than meets the eye with their journey outside of music that propelled their careers. As we mentioned earlier her first EP was a mix of jazz, pop and folk but her new focus is on her original music which is more electronica based.
"The motivation for this change in genre was self-discovery. After I decided to become a music artist that produces and performs original music, I felt that a period of exploration was needed in order to find what kind of styles or genres I was able to work with well, as a songwriter-producer and also what was going to make me feel whole as a singer-performer which would become my identity."
Currently, EQ has released her much anticipated album "When the Night Has Come" and it has already raised some eyebrows. The new approach she has taken with this new album displays the true and raw talent of EQ on a broad scale. One of her most prized tracks "Scars" is filled with strong lyrics about the choices we make in life of whether to embrace joy rather than invite pain. The single delivers a message that is something we all are guilty of in some way. "Scars" the video has already reached over 9 thousand views on YouTube an impressive number for an independent artist.
The album was made possible with the assistance of such people like audio engineer Fernando Matilla and co-producer Wilhelm Camargo. In addition she had the support of individuals like Mario Julian Navas, Matthew Castillo, Louis Arcella as one of the executive producers and the unconditional help from John Jairo Jaimes (film director-actor). Songs like "Fairytales" and "Love's Happening" are tracks that represent two sides of the coin; traumatic experiences and the other the joy of finding love.
EQ also writes lyrics for other artists as well. The single "All What We Need" was written for artist Laisha Torres which was released in the fall of 2018.
"I have had the opportunity to write-compose songs for other young artists in the USA and I still keep working on that. At this moment I am pre-producing some Christmas songs for 2019 in Spanish for three young artists I met in Colombia during my non-profit Christmas work there with children, during November 2018, and have one Jazz song in English under the same process for a very talented young artist I met with an amazing voice and energy from San Antonio, Texas. His name is Chandler Nelms."
EQ is not only known in the States but still has a solid fan base in her native Colombia. For the month of January she is heading to South America to be a part of a promotional campaign to push her new album. One of her main goals is to share her music internationally in any way possible. Her first stop is Colombia of course then she plans to branch out to Venezuela, Peru, Ecuador and Argentina. Before she released the new album EQ worked on a Christmas album entitled "The Polar Express EQ" which gave birth to her Christmas musical show "Holidays Without Music?". This project caused her and the 100 Children Performing For Christmas to close out a holiday concert at the Holiday Market sponsored by ChasePay and Westfield World Trade Center at the Oculus. On the table for EQ for 2019 is to set up live performances for the new album and take it to another level.
"I believe that thanks to technology and talented people, anything can be made at the music studio. When an artist is able to perform live, is when the real game begins. Not just showing pretty people on stage with lights but creating a whole attractive experience for the audience to enjoy. As an independent artist I feel I have one hundred percent control in this and honestly, I love that challenge."
By Nick Christophers