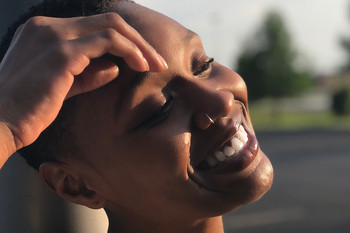 With the support and encouragement of her loving father, Ashalei Nickole began singing at the age of five. Once she learned how to hold a note, he realized she had a gift, and would work with her every Friday night. It took off from there, and she began recording and writing music when she was 14 and her dad built a home studio. With a Bachelor's in Recording Arts from Full Sail University, Ashalei Nickole is "like Batman undercover" as she records many of her songs herself and is always heavily involved in the studio process for her music.
http://www.ashaleinickole.com/
Ashalei Nickole's songs are influenced by life experiences. Sometimes it's things she herself has been through, but often she'll draw from experiences that have happened to a close friend. While she's as honest as possible in her songs, "even if my heart is broken… I am not my past, I always try to put a positive note to things." Her musical influences change yearly, though right now H.E.R., SZA, Jhene Aiko, Beyonce and Jasmine Sullivan are favorites.
Now, she's offering up "Growing Pains" from the new album N.U.D.E. ("Never Underestimate Da Experience). When it came time to choose the album name, Ashalei Nickole had just cut her hair and felt super exposed – but ultimately, cutting her hair was "the best thing I could've done." She wrote the song about painful life experiences that she had to go through often by herself, and deciding that "I'm not gonna look back, I'm moving forward… even though you're growing, you're just growing through the dirt. Even though it's painful, you're still gonna make it through." The "Growing Pains" video depicts Ashalei's experience living in the real Miami – it's not the glamorous, fast-paced lives you see on TV, but it's still video. Her two nieces that she mentors are in the video, watching as she's growing up as a beautiful, well-rounded black woman.