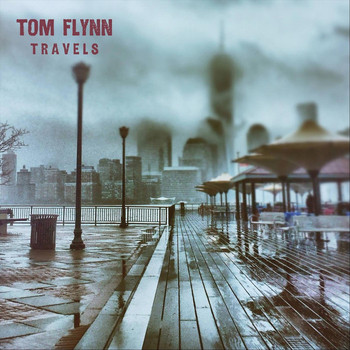 It's hard to believe that this is a debut considering Tom Flynn has been playing live music since 1989. Back in high school, Flynn teamed up with his friend Tom Brislin, who has worked with YES, Meatloaf, Debbie Harry among others, and formed a band called Tachyon. Since then, Tom Flynn went on to play in many other bands but later would really hone in on his craft of songwriting as a solo performer. Tom Flynn's no longer a teenager having jam sessions in Tachyon but come full circle because his former band mate is back to help out! Tom Flynn's "Automatic People" is a single off of the album titled 'Travels' produced by Tom Brislin.
This track holds a lot of promise and automatically could be a Hit being played on radio stations nationwide. There's a lot going on here on "Automatic People" about urban life with Tom Flynn giving you all the hustle & bustle you can handle. The song does have a citified feel but done in a Lite Rock, easy-listening mode. The track instantly draws me in with the catchy rock groove & melody along with fan-friendly vocals from Flynn. The style is free-flowing Indie Pop/Rock/Folk with carefully orchestrated chords. This is a finely-produced recording that can be enjoyed my ALL people and relate to many.
The reunion between old friends turned out to be a BIG success for Tom Flynn and Tom Brislin. This solo effort by Flynn is terrific and this artist is humanizing and simplifying the face of music. "Automatic People" is already hitting all the right notes so I can't wait to check out the entire album, 'Travels', to get the full Tom Flynn experience. Mr. Flynn is flying high on the debut solo project and welcomes Spontaneous People to jump aboard and take the journey.
https://www.tomflynnsongwriter.com/
By Jimmy Rae (jrae2@att.net)