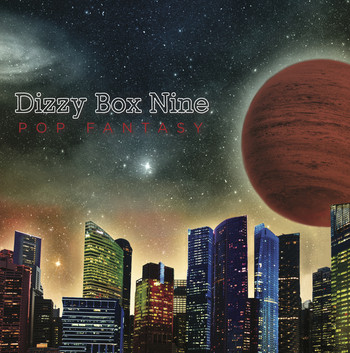 LA-based Dizzy Box Nine return after 2017's – Electric Illusion, with the full-length release – Pop Fantasy. This is an indie-pop outfit by all means, but they do make efforts to be accessible with short and precise pop tunes that rock without hesitation. They provide a well-balanced mix of catchy jingles, along with a couple of excellent covers thrown in for those who can spot them, which help to round out what is a great sophomore release.
The record features 13 memorable and well-written tracks, kicking off with the super infectious "Anytime, Anyplace," a well baked opener which confidently leads the way for this well-arranged track list. "Yesterday" follows with a much more frantically-paced tune that falls more under the indie-pop sound with an almost punk vibe throughout it. This track offers a glimpse of melodic perfection in its-own right, but it offers a different sort of musicality than the previous one, which ultimately makes them both stand out.
"Like A Star" offers yet another change of pace with intriguing lyrics, a sing-along storyline, and some great layered vocals. This is when you realize you're in for something special with this record. There's more than just one or two songs here worthy of mention. Pop Fantasy offers a complete musical experience. There is some undeniably awesome guitar work and solid songwriting throughout. It's catchy and clever.  It's like a shot of dopamine directly to your brain. You immediately feel it. You simply can't help but enjoy it.
FACEBOOK: https://www.facebook.com/DizzyBoxNine/
"Forever in My Dreams" adds to the experience with more of an artist approach. The guitar tones are searing, especially on the hypnotizing solo on this excellent song.
"Lost and Found" switches things into high gear and the result is a combo of everything they have to offer, with another cool song and some killer guitar playing by Randy Ludwig. This is where they delicately balance their seriousness with playfulness, which is rather admirable. "Maybe" offers a sort of melodic "less is more" approach. It's an interesting song offering hope and encouraging reflection for us all. "Just Like Heaven" is one of the two surprising and well-performed covers which could not have been chosen from more vastly different ends of the musical spectrum.
"Happy Birthday" is a 31 second guitar ditty that could be one of the shortest songs ever, and it could just be a subtitle or prelude to "What I Like About You" which is another playful song, and which is easy to like. "I Won't Let You Down" is the album's closer, and is worthy of your attention. Overall, Pop Fantasy offers the perfect balance of accessible rhythms, insightful lyrics, and super-sweet melodies!
Gwen Waggoner