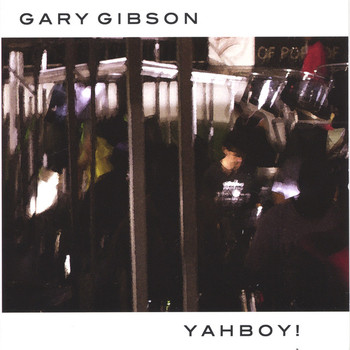 It's likely Gary Gibson's Yahboy! Is an album of steel drum music like you've never heard it before. Be honest: When you think about steel drums, you picture a group of lively players wearing colorful clothing and performing on a scenic beach, right? Now — in the most Rod Serling voice possible — picture if you will a steel drum player swinging and improvising in a jazz club. Blasphemy! Hardly. Gibson plays the steel drums the way, say, Lionel Hampton played vibes.
There is much to enjoy about this album. Although it is not strictly straight-ahead jazz music, it nevertheless incorporates plenty of worthy jazz elements. The bass work on "Uncommon Denominator" alone is worth the price of admission. With its bubbling solo, it brings to mind Jaco Pastorius's iconic work with Weather Report, which is high praise, indeed.
The album closes with a wonderful version of "Amazing Grace." Many believers and unbelievers alike, love this song for its comforting words. It's oftentimes played at funerals because it can bring temporarily calming peace during an emotionally turbulent time. However, this is an instrumental version, and as such, highlights the composition's beautiful melody. Steel drums are accompanied by empathetic piano, and Gibson wisely doesn't overdo it. Instead, he allows the song's natural beauty to shine through. This is also a lovely way to close out an album. After so much boisterous playing, it's a smart method to bring everything back home to simple, pure melody.
One composition, "The Man with the Steel Head," is seemingly a commentary on Gibson's instrumentation choice. This track has a bit of Latin music running through it. In fact, many of these recordings feature a subtle, and sometimes not so subtle, Latin jazz vibe. Gibson is based in Seattle, which is not exactly famous for its Latin music, so maybe he just digs these sounds.
"A Little Poem For You" is one of the album's quieter songs. Gibson plays a bright, warm melody, which might also make for a fine TV show theme. In fact, it sounds a bit like Bob James' theme for the old sitcom Taxi.
Yahboy! is not solely recommended to steel drum fans, although lovers of the instrument are certainly encouraged to check out this album. Instead, it's really for jazz fans. It puts a brand-new spin on jazz. Jazz, as great as it is, can sometimes become a little cliché. It's difficult to do much that hasn't already been tried before. There aren't likely any new Ornette Colemans out there, just waiting to revolutionize the style – although that'd be really cool if there was one. Gary Gibson doesn't so much create new types of music, so much as he changes up the instrumentation enough for listeners to perk up their ears and say, 'Well, that's a different take.' It's not just a new spin on an old form, though, because Gibson is both a quality player and composer.
Give this album a listen, and then play it for your jazz fanatic friends. Ask them what they think. Also quiz them on whether or not they've heard anything like it before. Probably not, which makes this essential listening for adventurous jazz music fans.
CD BABY: https://store.cdbaby.com/cd/garygibson3
Dan MacIntosh