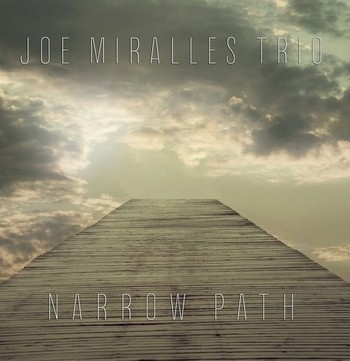 The first thing that immediately draws my attention in is the cover art where I'm seeing a long pathway heading straight into the light in the sky with thick, fluffy clouds hovering above.  This definitely comes across as heavenly at first glance just by the mere presence & vivid imagery on the front cover.  'Narrow Path' is a new EP by Joe Miralles Trio and they certainly seem to be heading in the right direction.
This powerful portrait of a walkway to Heaven is brought to life on the title track, "Narrow Path".  The song starts up with the lyrics "There's only one way to heaven" bringing light to the visual aspect.  I picked up on intricate chords & melodies and a deep message where "Narrow Path" can serve as the answer to your prayers.   The track, "I Owe You" offers up a cool, country vibe where you'll just want to kick up some dirt and enjoy the show.  "Blue" is not just a color but one inviting tune that will dance through your mind all day.  The song, "Glorious Night" is just that with an uplifting tone that will have the listener giving praise and singing for days.
Joe Miralles Trio features Joe Miralles on vocals & guitar, Gary Houk on drums & keyboards and Nick Priessnitz on bass guitar.  This group is based in the Philadelphia area and this EP was recorded at the Hacienda Studio in Phoenixville, PA.  Longtime producer and musician friend of Joe Miralles, Cliff Hillis handled production of 'Narrow Path' and played guitar on some tracks.  Two other guest musicians on the EP include Mike "slo-mo" Brenner on pedal steel and Rosie McNamara-Jones on fiddle.
Joe Miralles sums it up perfectly here talking about 'Narrow Path': "The creation of the new EP was the greatest collaborative effort for me in years. Working with my trio in the creative process was amazing.  I am blessed to have not only great band mates but friends.  I hope that people take the time to listen and consider the lyrical content and enjoy it".
SKOPE out this live performance of Joe Miralles Trio playing "Blue" at the Steel City Coffee House in Phoenixville, PA:
Joe Miralles Trio will be touring throughout the Northeast region in 2019 and you don't want to miss their original blend of music.  In the end, go this way and follow the 'Narrow Path' because it will not let you down.
By Jimmy Rae + (jrae2@att.net)