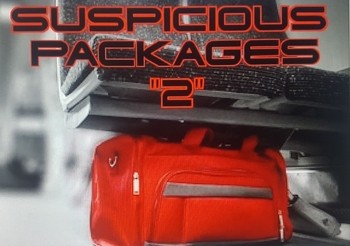 Today's interview is brought to you by featured guest Dwayne "Muffla" Simon. A music industry pro who helped pioneered behind the scenes of some of the rap world's heavy weight artist such as Run DMC and LL Cool J. He now out of former retirement releases an exclusive album "Suspicious Packages 2" to give the game that missing taste of something that's real, appreciated to this!
I'm Dietrich Garnett the interviewer:
Q: Thanks for joining in with us today at Skope, you know with someone of your credibility. It's only a matter of time before the rest of the world notices,what you feel sets this raw album from the rest of the other guys produced out right now?
A: IT'S A RETURN TO REAL HIP HOP FROM A WEST COAST PERSPECTIVE. NOT MINDLESS MUMBO JUMBO BUT REAL MUSIC, LYRICS, S O N G S!!!, . A RETURN TO THE ART OF "MAKING". AN ALBUM THAT CHECKS ALL THE BOXES IE: THE NOD FACTOR, ORIGINALITY, C-WALKABILITY, LONGEVITY POTENTIAL, …THE FORMULA
Q: Now the album has many quotes and references to L.A. life, how was life like for you growing up? Did this motivate your music or was music something you always had your own appreciation for?
A: MY MUSICAL JOURNEY STARTED WITH UNIQUE DREAMS ENTERTAINMENT/UNCLE JAMMS ARMY ONTO DEF JAM TO ATLANTIC, TO MY OWN LABEL EXPERIMENTS. THE MUSIC GAME AND ITS EVOLUTION IS INTERESTING NOW THAT THE PLAYING FIELD IS EVEN & IMPROVING. IT WAS REEEAL LOPSIDED THERE FOR A WHILE. BUT MUSIC WASN'T MY FIRST LOVE. FOOTBALL & TRACK WERE MY TOP INTERESTS. ALWAYS WANTED TO COACH SO I TOOK A TWENTY YEAR HIATIS FROM THE ENTERTAINMENT INDUSTRY COACH YOUTH, HIGH SCHOOL, AND CURRENTLY SEMI-PRO FOOTBALL. I RETURNED TO THE INDUSTRY IN 2014 WITH THE MOTIVATION OF WHAT I FELT WAS TO CONTRIBUTE TO THE REVITALIZATION OF HIP HOP. IT WAS SPIRALLING DOWN AND OUT OF CONTROL.
Q:How long have you been rapping and producing? I also must add, It will is well orchastrated.
A: ME AND MY PARTNER DARRYL PIERCE BRANCHED OFF FROM UNCLE JAMM IN 1985 AFTER A DEMO OF L.A. BREEZE WE PRODUCED REACHED RUSSELL SIMMONS ADDING BOBCAT & DJ POOH CREATING THE L.A. POSSE. FROM THERE I WAS UNDER THE TUTALIGE OF STEVE ETT (RIP) & RICK RUBIN AT CHUNG KING HOUSE OF METAL IN NEW YORK SO I HAD A PRETTY COOL SITUATION GOING AS FAR AS PRODUCING & ENGINEERING WAS CONCERNED. STEVE WAS LIKE A CHEMIST WHEN IT CAME TO RECORDING & MIXING RAP/HIP HOP. RICKS CREATIVITY WAS INSPIRING TO SAY THE LEAST. REALLY ELEVATED MY GAME. LATELY GUYS LIKE JAY KING of CLUB NOUVEAU, D.O.A. & BRIAN MORGAN IN THE BAY AREA INSPIRE ME TO DO BETTER. CONSUMATE PROFFESIONALS.
Q:What is your favorite track featured on the album? How does it compare to your previous work
A: TRUTHFULLY, OF ALLL THE RECORDS I'VE PRODUCED THIS IS THE ONLY ALBUM WHERE I LOVE THE ENTIRE THING. ITS ENTERTAINING AS PHUCK. BUT IF I HAD TO PICK ONE JOINT IT'D BE CALIFOYA (NUTT CASE) featuring YOUNG MAYLAY – "L.A. W/THAT OOHLALA". THAT SHIT BOUNCES! BUT THE SLEEPER ON THE ALBUM IS ARANESA TURNER featuring ALEX CONEDY – "SOMETHING BOUT YOU". THAT SONG IS REFRESHING.
Q:What is it like for you producing and writing? Tell us about the process.
A: I'VE BEEN WORKING WITH A CAT WHOM I CONSIDER THE MOST UNDERRATED AND BEST KEPT SECRET IN WEST COAST HIP HOP MUSIC. EARLEON HARTDIGE IS SOOO MUSICALLY TALENTED. "HE JUST KICKS GENIUS DOWN THE STREET LIKE AN EMPTY CAN". OUR CHEMISTRY IS COOL. THE BEST WAY TO DISCRIBE IT IS, HE GROWS THE GROCERIES AND I COOK'EM. THE WRITING TALENT ON THIS ALBUM WAS AN ADVENTURE. THE FORMENTIONED ARANESA TURNER, PLUS VETERANS JON MYKAL, SEMAJ SUMPTER, AND YOUNG CANADIAN ALEX PRICE PROVIDE BRILLIANTLY ON THE R&B CUTS. ON THE RAP SIDE L.A. BREEZE, DOC ICE FROM U.T.F.O., YOUNG MAYLAY, BIG JOQUE & PRYDE RAWK BRING EXPERIENCE THAT YOU CAN HEAR & FEEL. CALIFOYA, PHILOSOPHY, KREEZ, TIA P, & RIS REPRESENT RAPS NEW GENERATION AND THE RETURN TO REAL HIP HOP.
Q: So with that being said, are you more motivated by inspirational moments to just go do it or is this more of a timely dedication to your creaitivty?
A: ALL OF THE ABOVE. ITS A LESSON IN HIP HOP PRODUCTION. I LIKE TO PASS ON KNOWLEDGE. IN ORDER FOR THE CULTURE TO SURVIVE ITS EVOLUTION IT HAS TO BE MOLDED. NOT RESTRAINED BUT GUIDED & NURTURED. IF YOU DON'T TEND THE GARDEN YOU'LL END UP WITH WEEDS.
Q:It's an amazing experience to be part of the scenes of some of the biggest named artists, so tell me who you have worked with and what it like working with them during those forumlative years?
A: LOOKING BACK, WORKING WITH BREEEZE WAS AN IMPORTANT START. BUT WORKING WITH L.L. COOL J TAUGHT ME HOW TO GRIND IT OUT, ILL AL SKRATCH TAUGHT ME PERSISTENCE, THE REAL ROXANNE TAUGHT ME HOW TO GET THE MOST OUT OF YOUR ARTIST, GOSPEL RAPPER T-BONE TAUGHT ME HUMILITY, RUN-DMC TAUGHT ME HOW TO HANDLE PRESSURE, RALPH TRESVANT TAUGHT ME TEAMWORK, THE LADY OF RAGE TAUGHT ME EFFECTIVE WRITING, MONIFAH TAUGHT ME TALENT IS JUST PART OF IT, WHODINI TAUGHT ME DETAILS, JOHN SINGLETON TAUGHT ME LEVELS TO MIXING SOUNDTRACKS, CRYSTAL WATERS TOLD ME I COULD HOLD A NOTE, NONA GAYE, MISTA GRIMM TAUGHT ME HOW TO SAVE A SONG, JOHNNY GUITAR WATSON TAUGHT ME PERFECT PITCH, KING TEE, GOSPEL SINGER CRYSTAL LEWIS TAUGHT ME POWER, MONIE LOVE TAUGHT ME PATIENCE, and a host of others.
Q:What do you notice the biggest change from the time you guys were first doing music to how music is made now? Is there a quality difference?
A: IT'S MISSING MANY MAJOR ELEMENTS OF THE ART. NAMELY CREATIVITY, STRUCTURE, PURPOSE, QUALITY…. MOST HIP HOP PIONEERS AND ENTHUSIASTS THINK IT'S MINDLESS. I BLAME MY GENERATION OF HIP HOP. WE WERE SO BUSY SAMPLING AND TRYING TO FIND THE HOTEST LOOP WE FORGOT TO MAKE CRATES FOR THE NEXT GENERATION TO DIG THROUGH. OVERALL I DON'T THINK THE NEW SOUND HELPS ELEVATE THE GENRE. WITH THE EXCEPTION OF KENDRICK, MEEK, J., H.E.R., & YOUNG M.A., THERE AIN'T MUCH OUT THERE QUALITYWISE. VETERANS LIKE SNOOP, METHOD MAN, EMINEM, EREICK SERMON & RED, CHUCK D, ALKAHOLIKS, & CUBE ARE KEEPING HOPE ALIVE WITH RELEASES OUT NOW OR ON THE WAY. "SUSPICIOUS PACKAGES 2" SHOULD FIT RIGHT IN. TODAYS R&B IS ON LIFE SUPPORT THOUGH. THE INDUSTRY WANTS IT BUT NOT FROM YOUR TRADITIONAL R&B ARTISTS. THEY WANT IT FROM THE ADELES, JUSTIN TIMBERLAKES, BEIBERS, & ARIANA GRANDES. NOT FROM STEPHANIE MILLS, MARY J., FAITH, JOE, etc. GOTTA GIT IN WHERE YOU FIT IN.
Q:What advice do you have to up and comings all the young people out there trying to break into this field?
A: HONE YOUR CRAFT. DO SOME HOMEWORK. IN ALL YOUR GETTING GET UNDERSTANDING. "WINNING IS JUST A BI-PRODUCT OF DOING THINGS RIGHT". TAKE CARE OF THE BUSINESS OR YOU'LL JUST BE POLISHING A TURD.
Q:I see you running a independent label. What made you take that route compared to working under the major ones?
A: I WANTED TO BUILD SOMETHING THAT WOULDN'T BE LIMITED ON ANY! LEVEL. CREATIVE ATONOMY, THE PULSE OF THE MASSES, A VOICE FOR THE VOICELESS, UNTAPPED TALENT. THE SLOGAN FOR COVERT ENTERTAINMENT SOUNDWORKS IS "THE INDUSTRY'S BLACK BAG OPERATION". WE DO SHIT MOST ARE SCARED TO ATTEMPT. LIKE THE LOTTO, YOU CAN'T WIN IF YOU DON'T PLAY. BESIDES, WITH THE ABSENSE OF BLACK MUSIC DEPARTMENTS AT MAJORS BEING REPLACED BY FILM & TELEVISION, COVERT WILL BE VERY NECESSARY FOR THE FORSEEN FUTURE IF BLACK MUSIC IS GOING TO SURVIVE.
Q:Finally what made you come out of retirement for so long, it seems this album is well needed. What drove you back to music once and for all?
A: I COULDN'T JUST SIT BACK AND WATCH A GENRE I HELPED PIONEER GO DOWN IN FLAMES. THE GAME NEEDS IS GUIDANCE. I CHALLENGE ALL THE PIONEERS TO MUSICALLY MENTOR SOME OF THE YOUNG COMERS AROUND THE WAY. IT'S CRITICAL TO THE FUTURE OF HIP HOP. KURTIS BLOW HAS BEEN DOING IT FOR A WHILE.
Q: Are you currently touring for the album? If so maybe list some shows or upcoming venues for our adiences to know.
A: A TOUR HAS BEEN KICKED AROUND & DISCUSSED. WE'RE PLANNING AN OFFICIAL RELEASE SHOWCASE EARLY IN THE YEAR. THE ARTISTS ARE BITING AT THE BIT TO HIT THE ROAD WITH THE NEW MATERIAL. ESPECIALLY DOC ICE, JON MYKAL, & ARANESA TURNER. THEY'VE BEEN PLANNING ON IT SINCE THE SONGS WERE RECORDED.
Thanks for answering the questions. Okay guys make sure to check out deep cover entertainments Muffla's album "Suspicious Packages 2" , it's going to rock your speakers and give you an edge of hard hitting lyrics. Appreciate the oldschool, especially those that help lay the foundation! Stay tuned this is Skope Magazine.