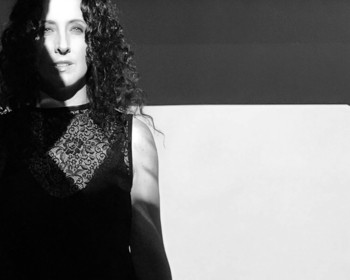 Okay, so Amie Penwell isn't literally shattering glass for me but she is figuratively with her piercing voice and perfect clarity. And I am a first-hand witness to this glass-shattering performance and persona that is the whole Amie Penwell package. With her new album, 'Windows', it's crystal clear that Amie Penwell is glistening without any audible streaks or scratches in the overall framework. Now, let's learn to LIVE and learn to LOVE like Amie Penwell.
JRae: So it's been over five years since my last Review + of your terrific album 'Under City Lights', (https://skopemag.com/2013/04/30/amie-penwell-under-city-lights), and so first have to state the obvious that it's been TOO long! :) But I'm glad you're back and so wanted to ask what you've been up to over the last five years? Any BIG life events?
Amie Penwell: Ha! Yeah, it's been a stretch, a marathon really. Everything takes time with music, to gather and implement experience and ideas, and of course to save the money in between to take the next steps. In 2015 I released a couple remix singles and videos for "Somewhere The Sky Is Blue" with Grammy Award Winning Producer Ricky Kej and "Dogfight On The Moon" with Alex Wong. This was a herculean effort for me. I recorded this latest record 'Windows' twice. It tested my stamina on every level. It was supposed to come out a couple years ago, but I wasn't satisfied with the first go, so I wrote another couple songs for it, and re-recorded it at an analog studio in San Francisco. I needed to be the one who made all the creative decisions, so I produced it myself. As I was editing the first version for the first single "Unstoppable" in November of 2017 with my beloved collaborator Matt Palazzolo, he passed away suddenly. Everything came to a halt. It took me another 9 months to get my footing.
JRae: Do you feel you've grown spiritually, emotionally and/or mentally over the last five years? Are you wiser now than you were then in 2013? lol
Amie Penwell: With humility I say yes. I am not the same woman I was 5 years ago. Life tenderized me more. It's what it does. Thank goodness for art. It saved me again. I have grown into a very strong woman. I wrote a record about the strong women around me. Strength for me comes from vulnerability, courage to live with an open heart and living your truth what ever that may entail-no matter what. To embody the songs, the people I write for I have to feel it, put myself into their shoes and live in them for a while. It's very uncomfortable and totally necessary. It seasons you.
JRae: Has your musical sense/style/direction changed drastically since 'Under City Lights' and if so please explain?
Amie Penwell: Drastically? In a way. It's more of a culmination of everything I feel is essential. What I felt was worth taking with me from the past 15 years of writing and recording. Alt rock mixed with soulful and Alt Country. Morphing and living in those genres is a natural zone for me. I've created something that is uniquely my own sound. It became painfully clear that it was time for me to take charge on every level with 'Windows', so if it sucked at least I knew I was the one who sucked. My music is me. It was a transformational process using my own production filter.
JRae: I have to ask since you're based in California; have you been able to witness, firsthand, the devastation caused by all of the deadly wildfires? My heart, thoughts and prayers go out to all of the people there having to deal with that.
Amie Penwell: It was brutal here- though not anywhere close to what folks are still dealing with 3 hours from where I write you. There were a lot of deaths, hundreds of people still missing. Rapid devastation, tens of thousands of homes lost in a few days. Climate change is directly felt here. Two years in a row we couldn't be outside with out a mask on for 9 days. There is no where to escape from the reality of what feels like an incremental climate based apocalypse when you can't breathe the air outside.
JRae: I'm really excited about your new album titled 'Windows' and so could you tell us more about this recent project and what it means to you personally? SKOPE out the official music video for the single "Window" right here:
Amie Penwell: Thank you! I've spent the last few years working on a collection of songs that came out of conversations I had, and experiences I've shared, with women of diverse ethnic, economic and religious backgrounds.
That collection became 'Windows'. It's an intimate, firsthand look into the lives of nine women on nine different journeys. Each song is a portrait of individual and collective exploration through acceptance, power, will, humility, denial, willingness, faith, surrender, and freedom.
The ultimate goal of this work is to stimulate conversations with one another, to help each other and the upcoming generations be more awake, objective, vocal, and free. To walk with one another through the sometimes brutal inventory of facing ourselves, through the society we find ourselves in.
My main objective was to focus on what the moment with them had to teach me, to extract truth, the lesson from the beastly, the beautiful, and every ordinary passing in between. My experience has made clear to me that the more honest I am with myself, the more connected I can be with others. The songs are moments of witnessing, expressing and celebrating our similarities and not focusing on our differences. It is the fastest way to create connection and not separation between us. I can't think of anything more important than to try and see our internal human common ground.
JRae: How long did it take to record and put together the entire collection of songs on 'Windows' and was the whole process a true labor of love for you?
Amie Penwell: It was a total labor of love in every way on every level. All told, it took over 4 years to write, raise money, record, fall apart, borrow from retirement, re-record, gestate, mourn, save more money, begin promotion, THEN release, which brings me to now. I'm broke, but I'm proud of myself for doing my best and bringing 'Windows' to the world.
JRae: What's the meaning behind the title of the album and how did it all originate for you?
Amie Penwell: When I realized what the body of work was about; the visual of city 'Windows' came to mind, a glimpse into their lives.
JRae: Anyone else involved in the making of this record and if so how did they help shape the overall sound to fit with your vision of 'Windows'?
Amie Penwell: Maia Sharp played a big role in co-writing 4 of the songs with me. Her songwriting mastery can be felt on "Window", "This Ain't Happening To You", "Angels In The Sand", and "Noticing Place". Adam Hirsch engineered and arranged a lot of beauty on the record. Adam Rossi Produced a new version of "Mercy" for a breast cancer awareness compilation that I decided to add last minute. Jeff Oster on Flugal Horn and trumpet, my husband Matt Penwell played bass, Jason Slota on drums, and Jeri Jones on Slide and electric guitar, Gawain Matthews on organ and guitar on "Unstoppable". Lastly, I called Jim Greer to do a final mix and master.
JRae: What is the ONE thing you hope listeners will take from 'Windows' and who would you say your target audience is here?
Amie Penwell: That we are all connected. We don't have to be alone in any of the struggles we face. That music is medicine and I hope more than anything in the world that 'Windows' can be used as such. I think my target audience is anyone who is willing to take the time to face what they need to feel. Anyone who likes Sarah Maclachlan, Ray Lamontagne, Peter Gabriel, or Annie Lennox will feel a kinship to Amie Penwell's 'Windows'.
JRae: How has the response been thus far for your new album and any touring or radio promotion in the works?
Amie Penwell: The press across the board has been extremely positive. Everyone is getting it. This isn't a record just for women, mostly men have been responding to it. It's a trip. As far as sales and placements- or touring we'll see. Touring is expensive, as is radio promotion. For now I am going to let it get out there and see what comes.
JRae: I like to end on a positive note and so with Thanksgiving just recently and Christmas next on the list, do you have any special plans for "The Most Wonderful Time of the Year"? And to go off of that, I personally feel that family, faith and giving thanks are major themes for the holiday season, on the whole, and so what can families/loved ones do worldwide to make this year stand out like out never before?
Amie Penwell: Tell yourself what you love and like about yourself, then tell the people in your life what you love and like about them. Focus on the similarities, and not the differences. Sing, share meals, be silly. Love and gratitude are the most powerful forces on the planet. They grow when practiced. We become what we focus on. May we all decide to focus on love, as I truly believe it will turn all this mess around.
By Jimmy Rae (jrae2@att.net)