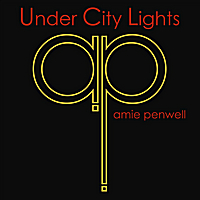 The first time I heard Amie Penwell was four years ago when I had the opportunity to review her record 'King in a Temple' for Skope Entertainment (http://www.skopemag.com/2009/02/20/amie-penwell-king-in-a-temple).   I knew then that this talented artist had major potential and that she had a promising future ahead of her.   Five years have passed since her last release but 'Under City Lights' proves to be an instant success for Penwell.   This is Amie's third studio album in seven years and I have to say that this 6-track recording is more refined than ever.   There seems to be more of a driving force on 'Under City Lights' where AP is pushing hard on the accelerator and not letting up for a second.   The new album was created under the city streets of San Francisco where Amie would take long walks at night breathing in all the sights & smells around her.   So thanks to Amie's super senses & sharp intuition along with an eventful Kickstarter campaign to help fund the project, 'Under City Lights' was born during the summer of 2012.  
"Walking With You"
http://www.youtube.com/watch?v=b7jPNXwshrE
"Dogfight on the Moon"
http://www.youtube.com/watch?v=f0Jud-Gz854
Penwell was responsible for writing all of the songs, laying down the vocals, co-producing the record and even playing the piano.   But AP was not alone on this mission, far from it as she had the help from many respected musicians along with a top-notch production team and picture-perfect visual artists to boot.   Actually Amie Penwell gave thanks to 48 people over the last two years who helped bring 'Under City Lights' to life.  
Amie is once again getting in touch with her soulful side while riding on some emotional rollercoasters, which makes for one powerful record.   Right away on the opening number "Walking With You" the listener will hear that true grit in her voice that is sung with so much conviction.   The song is musically enticing and you are getting one convincing performance from Amie Penwell.   Next up on the list is "Don't Leave Me Wondering" which shows off AP's low graspy tone very well while also displaying an overload of emotion.   On track 3 "Come To Me" one can't help but notice incredible voice control that is so tight and one can't also overlook the amount of feeling that is being poured out here.   There is something about this particular song that really draws you in.   On "Dogfight On The Moon" Amie is simply commanding the mic and getting lost within the music.   You're hearing a singer's delight that puts it all on the line with nothing left to spare.   On track 5 "Somewhere The Sky is Blue" you will receive a peaceful vibe that is contagious while the closing number is extremely delicate comparable to a feather floating in midair.   Amie Penwell is setting the mood just right on the final installment and the sentiment is golden.  
Her music is something I'd like to refer to as Soul Pop due to the catchy sound blending in with pure & raw emotion.   AP is a one-of-a-kind artist with real substance and 'Under City Lights' more than proves that notion.   In this corporate music world that is undoubtedly known for pumping out unoriginal, one-dimensional Pop Radio puppets, Amie Penwell is a breath of fresh air to say the very least.     'Under City Lights' is a refreshing change to the humdrum, mainstream music scene that surrounds us today.   No more of the same ol' same ol' for me; I'll have what she's having please!
More exciting news for Amie Penwell because her underground hit single "Mercy" was recently featured in an award-winning documentary narrated by Ashley Judd titled "The Eyes of Thailand".   This film just came out on DVD and you can find out all about it and even purchase a copy at:   http://www.eyesofthailand.com/.   AP is also a contributing author to a best-selling book that was recently published called "Nothing But The Truth so Help Me God" and you can buy a copy at: http://www.amazon.com/Nothing-But-Truth-Help-God/dp/0988375419/ref=sr_1_2?s=books&ie=UTF8&qid=1362681671&sr=1-2&keywords=nothing+but+the+truth.
And make sure to check out Amie's videos for "Walking With You", which features a full band in the studio and "Dogfight On the Moon" that shows more of an intimate approach with AP performing solo.   You can purchase the new album 'Under City Lights' and find out more about this versatile artist at: http://www.amiepenwell.com & https://itunes.apple.com/us/album/under-city-lights-ep/id527525883.   Here are some additional links for your AP & Social
Media fix: http://www.facebook.com/amiepenwell?fref=ts
https://twitter.com/amiepenwell, http://amiepenwellblog.wordpress.com/.
Amie Penwell is the future and the future is now so make sure to check out 'Under City Lights'!
By Jimmy Rae + (jrae2@att.net)
Rating: 5/5