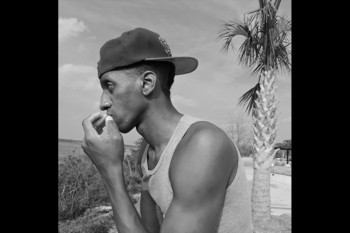 Proper Einstein, also known as Tony Alexander Brown, wants to sit us down and teach us a lesson through the universal language of music. As an actor, singer, songwriter, multi-instrumentalist, and award-winning producer, he has worked on his craft for ten years. Influenced by Kanye West, Beck, Michael Jackson, Prince, Sound Garden, and Nirvana, he lives by the statement, "study the greats and become greater." Drawing from hip-hop, electronic, and pop, his brilliant fusion of various genres and styles takes us on an intimate and self-reflective sonic journey. His goal? To claim the title of "the Musical Genius", as he takes and pulls until what has emerged is undefinable.
Proper Einstein's path began in Swainsboro, Georgia. It wasn't until after he graduated high school that he discovered hidden talents in dance and beat production. Fueled by his mission to connect and inspire creatives alike, he built a prestigious resume, working with some of indie underground's most recognizable names, like Freeyun Flowz, Mikey Barslow, and BigDawg Homie. He has also been rightfully featured on a heavy rotation on WXRT FM, one of Chicago's top commercial radio stations. Defined by various genres, his albums are a collective piece of the inner workings of his mind. Proper Einstein's releases include The Musical Genius (2016), Ready Set Go (2016), Welcome To My Feelings (2017), WTMF (Remastered) (2018), and various other explosive singles. He is gearing up to release a five-track EP centered around reinvention and rejection as he lights the way with his voice in the difficult to navigate music industry.
http://facebook.com/ProperEinsteinTheMusicalGenius/
"Light Bulbs" is the leading single off the upcoming project and it certainly pushes and pulls us in the right direction. The video transitions to shots of him alone with his notebook as he tells the tale of these wanderers searching for a purpose in the dead of night. Directed by himself and Landon Kennedy, they set the tone of isolation. Fueled by his visceral rock influences, he wishes and misses for a muse that is directionless. Driving himself to madness, he tries to find meaning in between the lines of his journal entry. Realizing his power as a self-proclaimed outsider, he shows his listeners the light through a detour. The path of victory isn't paved with just one route, but many various turns one can venture down. One can always start over and reinvent themselves without losing their soul into the black of the unknown.