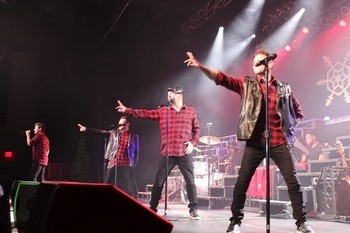 The original four guys with Ohio roots/connections are back on the road with their 2018 Christmas tour. Jeff Timmons, Justin Jeffre, and Nick and Drew Lachey accompanied by only a keyboard, drums, and guitar hit the stage in Cleveland.
Their successful first Christmas album This Christmas, was followed up by last years Christmas tour and release of Let It Snow. Since their first release in 1997, they've sold in excess of 10 million records. Now the guys are back in the platinum selling category again with their Christmas tunes.
Fortunately they didn't bring any snow with them, but they brought their "In Sync" (pardon the pun) four-part harmonies, enthusiasm, choreography, and of course loyal screaming fans. The guys interacted with the crowd, and during Mariah Carey's All I Want For Christmas Is You they threw out some wrapped gifts to the crowd.
The majority of the show was Christmas oriented doing material from their two seasonal releases, but they also interjected their other hits like I Do, The Hardest Thing, Invisible Man, Because Of You, and True To Your Heart (collaboration with Stevie Wonder for the film Mulan). It was impressive the way they treated the 1960's-70's Rock & Roll Christmas classics like The Ronettes Frosty The Snowman, Chuck Berry's Run Run Rudolph, and The Beach Boys Little St. Nick. They previously collaborated with Mariah Carey on Thank God I Found You, and now do a great job covering her All I Want For Christmas Is You. They even did great versions of the infamous theme song from the 1966 cartoon classic The Grinch, and then surprised the audience with a revival of the Chipmunks 1958 hit The Chipmunk Song (Christmas Don't Be Late).
You don't have to have been part of the original "Boy Band" fanbase to enjoy this presentation. If you grew up with Rock & Roll Christmas songs dancing in your head, you'll love this. The guys, some twenty years after launching, know how to lay it down with their four-part harmonies and presentation. Makes for a nice Christmas present for all ages. Merry Christmas Baby!
By R.M. Engelman