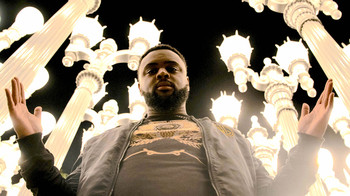 So we are here today on Black Friday although I should be getting trampled in the nearest Target or Walmart right now. I think I will pass and instead enjoy some music from Chad Rico. A Belizean American, Chad's legend began at birth when he was born in South Central Los Angeles, in the same hospital and at the same time as Grammy Award winning artist Kendrick Lamar. Today we are humbled that Chad Rico is here @skopemag to chat about his new release 'Myth' along with some other awesome topics. Also be sure to stream 'New Level' here via Spotify, it's a hit!
@skopemag: Have your friends/family been supportive of your musical journey and do you also have a job/school?
Yes my family and friends have both been very supportive which has been essential. It has helped get me going and now I have no plans to stop. Yeah, I have several jobs. I live in the Bay area. I am a math professor at the College of Alameda currently, teaching stats, which has been a gatekeeper for people of color trying to make to the next level of their education. I have also been doing work in financial management. That experience has helped me with my own finances. Finally, there is Gold & Gems, which includes my production company, record label and clothing line. So, with the help of great friends and colleagues I can keep it all going.
@skopemag: Will you be putting out any holiday songs/covers this season?
I have been writing a lot of songs but none with holiday intentions yet. I actually look forward to doing that next year as this is one of my favorite times of the year.
@skopemag: Your EP 'Myth' has been out. How has the response been and how long did that project take?
It has been a great response and I will have a bigger marketing plan for it in the first quarter. So far the response has been great. I'm seeing the different states, cities and countries listening and that is exciting to me. When Michael Denten finished mastering my project, he was like you did that in less than six months. So it was less than six months. I have already recorded another 20 songs plus I'm still recording, so at the top of the year I will narrow those down and prepare for my next release.
https://www.instagram.com/internationalchadrico/
@skopemag: Do you prefer if consumers stream or buy the music you release?
Well traditional album sells are worth more than individual streams. However in this new age of technology I am appreciative of both.
@skopemag: If you were to put out a video for 1 song from the EP which one and what would be the visuals?
If I was – lol. "New Level" and "Workin" videos are done and will release in the first quarter. I want to shoot a video for "Options," "Night in Barcelona" and "Click Click." I love my songs and I put time into to each one.
@skopemag: Any plans to hit the road in 2019 and let the people hear you live?
Still getting the dates to together for 2019 but please check the chadrico.com sites for updates and click my logo. In the meantime, I am performing First Friday in December in Vegas at Fremont Country Club so check me out as my team and I have a fun performance planned.
@skopemag: What is coming up for Chad Rico and where you @ online?
Online chadrico.com and when you get there click the logo. We have new designs dropping for the clothing. I have new projects dropping and also new artists as well. Finally, the movie "Partybus" will be finished shooting soon and you can look forward to seeing a teaser first quarter as well.