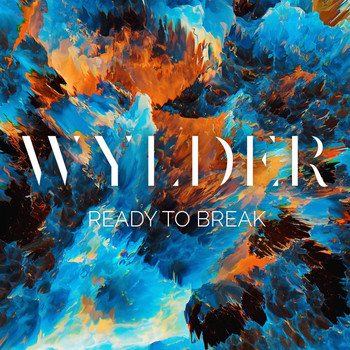 With a confident, contagious strut, Wylder come marching out of the silence and into our hearts in their all new single "Ready to Break," which was composed by frontman Will McCarry and features all four of the band's players in top form. An acoustic guitar swings hard and lays out the pace of the song before giving way to blistering clapping and a rustling percussive part that is all too reminiscent of an elevated pulse. The vocals enter the picture and start peeling away the black and white texture of the bassline to reveal a cache of colorful tones and harmonies just waiting for their moment in the sun. Strings crash into cymbals all while avoiding the pristine serenading, which is stately and formidable beside the earnest but excited band.
The chorus slashes through the thick, middle-heavy equalization of the opening verses and suddenly all of the brooding tension that had been building up prior to the shift in tempo crumbles and is replaced by a warm catharsis that is hard not to fall in love with. If we listen closely enough, we'll hear that the beat is still there and going strong, but I will say that it's quite easy to get lost in the layers of refined ambience that Wylder piles on in the climax of the song. Despite the eccentricities, the music is in no way cluttered or foggy in the master mix, and I would actually go as far as to argue that it's only through this surreal lens that we're able to appreciate just how much sonic depth the band has.
"Ready to Break" bolsters a few splendidly sharp guitar solos, and I like that they're not as virtuosic or showy as they could have been. Rather than making some ridiculous and likely recycled rearrangement of a minor key lead the focal point of the track, the guitar parts are there only to facilitate the collective melody that the entire group is creating together. In this sense the song is definitely one of the more unselfish rock singles I've reviewed lately, and it's equally distributed tones make it an excellent introduction to Wylder's dreamy sound for fans who might not be familiar with their amazing work (i.e. their 2016 epic Rain and Laura).
Singer Will McCarry commands listeners with his striking range in this song, which gels with the rich vibrato of the acoustic guitar opulently. The timbre of his voice was tailor made for a crisp folk rocker like "Ready to Break," and he really lets go in the chorus and shatters any notion that Wylder's lyrics are but an afterthought next to their captivating music. Like everything else in this single, his singing is precise and crisply produced, and we're able to get the full scope of his skillset as if we were seeing an intimate live performance instead of listening to a studio recording. If you haven't already gotten to know Wylder's growing collection of provocative indie rock gems, I highly recommend "Ready to Break" as a perfect starting point. It showcases what this band does better than most anyone else in their peer group; they dish out memorable melodies that owe as much to garage rock rebelliousness as they do the coffeehouse singer/songwriter aesthetic, all while exploiting the best qualities that either style have to offer.
Gwen Waggoner