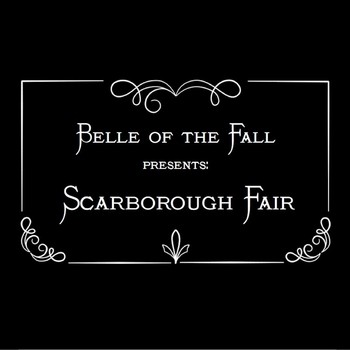 Simon & Garfunkel were one of the most vocally-sound duos of all time and one of my all-time favorites with "Scarborough Fair" being a timeless masterpiece and literally music to my ears.  And so, seeing that Belle Of The Fall tackled this gem of a song peaks my interests for sure, but also has me on guard as a tough judge.  Even with me being extra critical this time around due to my deep connection to the original integrity of the artists & song, I honestly have to admit that Belle Of The Fall knocked it out of the park!
Belle Of The Fall is a musical duo from Connecticut who are Tracy Walton and Julia Autumn Ford and shocking to find out that their debut album as an official act came only a couple of years ago.  Based on their tight, vocal harmonies and sincere chemistry as a duo, I would have guessed that Tracy and Julia had been singing and playing together for many, many years.  Their voices mesh together brilliantly and the fine-tuned acoustic guitar is flawless on this track.  This version of "Scarborough Fair" is like a delicate trance that will lure in the listener with its haunting & enticing notes and melodies.  Belle Of The Fall provided excellent musicianship and crystal clear vocalizing that just cuts right through you.  The overall approach is refined and genuine as Belle Of The Fall did the Simon & Garfunkel classic major justice.
This is a modern take on "Scarborough Fair" that still has that Folk touch but a more darker, alternative layer is added in.  With Thanksgiving tomorrow, it's a perfect time to sing along and breathe in the aromatic ingredients of  "Parsley, Sage, Rosemary and Thyme".  Belle Of The Fall offers up a tasty slice of "Scarborough Fair" that is insanely good and sure to satisfy the senses.  Tracy Walton and Julia Ford have given a fresh voice and new life to Simon & Garfunkel's "Scarborough Fair"…AND I must say it's a welcoming one.  Belle Of The Fall has already accumulated numerous accolades and awards in its short existence as a band, so I can't wait to see what's in store for this duo moving forward!
https://www.belleofthefall.com
By Jimmy Rae (jrae2@att.net)