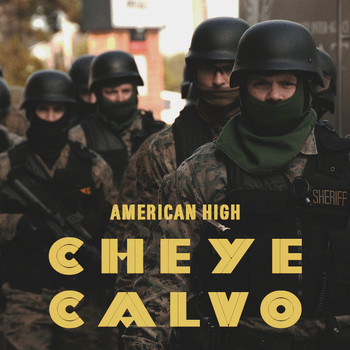 Since its introduction to the world, the punk rock music has always been one for making political statements, going against the flow of life and sticking it to the man. The genre of punk rock is expressive of their frustrations with the injustices of the system through the production of their loud lyrics, harsh guitar chords, and energetically cultivated atmospheres. Any social, political or personal topics can be channeled through the likes of punk rock music, and for the Sacramento-based quartet, American High, the focus of everyday social injustices and corrupt politicians reside within their lyrics. One social injustice that recently caught the group's eye is the unethical invasion of the police in family homes under the "no-knock" search warrant, as represented with their new single, "Cheye Calvo."
For those that might not be knowledgeable on the subject, the "no-knock" search warrants are methods demonstrated by local police forces who militarize and brutally intrude into civilian homes with the intention of frightening them and enforcing the prohibition drug laws. The results of these search warrants, however, are sometimes fatal, and American High demonstrates that in their lyrics when they sing in their second verse, "One dead to the left, one dead to the right // Something's wrong! // This is worse than what you're prohibiting"
Stream Cheye Calvo by American High on Reverbnation – http://www.reverbnation.com/AmericanHigh1
The title of the track is named after a Maryland political figure who in 2008 had an unfortunate experience of the "no-knock" search which resulted in the death of his two family dogs, the destruction of his home and belongings and physical mistreatment of his wife and his mother. Although this was not an ideal experience for a white male in power, American High sings that he's "not the only one that's paying (the cost)" – meaning these "no-knock" drug raids occur to lower income families more frequently than most due to their lack of knowledge on their own civil rights and inability to afford lawful help.
http://www.americanhighband.com/
Multiple video clips of fifteen to twenty police officers wearing heavy duty bulletproof vests and carrying large rifles, breaking down front doors and pinning citizens to the ground appear in the music video for "Cheye Calvo" and for what purposes? Possession of marijuana. In comparison to the "no-knock" drug raid, American High includes vintage clips from the 1920s Prohibition-era, depicting groups of old-timey detectives sabotaging contemporary beer barons – a stark reflection of the modern law enforcement behaviors that exist in today's news stories.
Despite being such an intense political topic to sing about, American High certainly know how to convey it into a cheerful tune. With strong sanguine guitar riffs, heavy drum beats and a repetitive sequence of na na na's, "Cheye Calvo" stays true to the classic punk rock sound that any single punk rocker could bang his or her head to. The distinction, however, comes from the group's strong harmonized vocals that not only differentiate American High from other bands but also agree with the fearlessness in their political statements and beliefs.
4/5 Stars
Follow American High on Twitter @AmericanHigh1