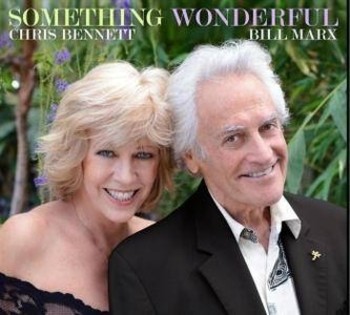 Grammy-nominated singer, songwriter, and pianist Chris Bennett recently released her twelfth album, Something Wonderful, and as trite as it may sound, the album certainly is something wonderful. Known for her disco days in the 70s for collaborating with other iconic names like Tina Turner, Donna Summer, and Giorgio Moroder, Bennett channels her jazz roots with Something Wonderful while accompanied by Bill Marx as her pianist. Being the eldest son and nephew to the world-renowned Marx Brothers, Marx is considered a jazz musical prodigy as his soothing piano chords complement Bennett's haunting and Sinatra-esque vocals throughout the album.
With Something Wonderful, Bennett takes us on a journey through the intense yet very brief relationship that she shares with a man who she falls deeply in love with.
Starting the album off with "How Do You Keep The Music Playing" Bennett compares her relationship to music as it is something that she finds to be so beautiful to experience; however, the main question Bennett asks herself is, "How do you keep that spark lit?" between two people. Slow paced piano chords match Bennett's slow yet pensive lyrics as she reflects on what she could've done differently to salvage the relationship. And we see why she questions herself as Bennett segueing the album's tone into "I'm Glad There Is You". Here, we listen to Bennett fall madly in love with this man with the quiet piano in the background as the lyrics mirror the love that the "you" in the song is putting into her heart.
Continuing with the positivity and euphoria that comes with being in love, the title track "Something Wonderful" all the way through "The Summer Knows" demonstrates all of Bennett's forward-thinking emotions for the man and their relationship, articulating how wonderful it is to be in love through the playful light-hearted piano tunes.
The entire tone of the album completely shifts, nevertheless, with "September Song" and "Goobye" as the man has a change of heart about his love for her with the change of the seasons, from warm to cold. A clever and symbolic transition of the sorts. Both songs feel more melancholic and slower paced compared to the rest as we can feel the hurt in Bennett's voice, letting the love of her life go. She recognizes that people are always changing and sometimes the way a person feels about us can change too, but it's the experience that we shared with them that makes it worth the while and, well, wonderful. Ending the album with "We'll Be Together Again" Bennett stays hopeful with wishful thinking, singing that the love she shared with the man might be for a different time and place and that they'll come together again.
Something Wonderful is empathetic and exquisite. Bennett's raspy, well-aged voice and beautifully poetic lyrics followed with Marx's diverse piano tunes go together like two birds of a feather, creating an atmosphere that brings us right back to the era in which jazz music was most prominent. To immerse yourself back in time, (listen to the album below or purchase it on iTunes –
https://itunes.apple.com/us/album/something-wonderful/1239230444
5/5 Stars