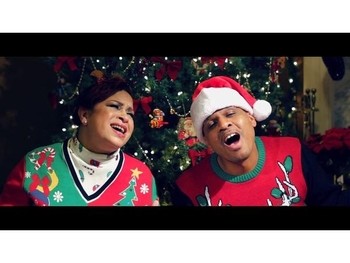 A lush, shimmering sonic introduction leads us into the airy opening bars of Norm Adams and Julia Robertson's "My Kinda Christmas," when suddenly, out of nowhere, a furious drum kit comes alive and nudges us into a sultry vocal that is as fresh as a newly fallen snow. Robertson lays an opulent melody on us that lyrically conjures up memories of Christmases spent with the family cooped up in a house with nothing more than eggnog, holiday cheer and a sweet set of vinyl to make our season bright. She's soon joined by Adams, who wants us to make a new collection of memories by leaving our tiresome day to day life for a tropical Christmas focused squarely on getting away from it all. Their ideas couldn't be farther apart, but their melodies are as close as can be without originating from the same golden pipes.
The music churns and throttles us all over the place with a beat that is robotic and never skips a step, but our attention is always drawn to the vocals and the majestic tone they wash the composition in. Christmas has an exclusive sound to it that has been tapped into by artists of every generation going back to the beginnings of Christian theology. Today, most of us associate that sound as being much more plastic and contrived than it was ever meant to be, but Adams and Robertson go out of their way to avoid falling into such unfortunate circumstances with their latest single together.
There is no sobering somberness to "My Kinda Christmas," no jaded point to be made about the irony of the way we celebrate the holiday in western culture, and certainly no reference to the hack commercial ideology that has overwhelmed this subgenre of pop with emotionless balladry and sorted sonic exhibitions. Instead, we've got Norm Adams and Julia Robertson doing what they do best (honestly better than most people) and using their talents to give a voice to a season that is more synonymous with raw emotion than all the others put together. The symbolism in this track relates more to the unity and cohesiveness that Christmas can create between man and woman, friend and enemy, or even stranger and neighbor, and its narrative does not fall on deaf ears.
Adams and Robertson both individually and as a dynamic duo bring a lot of amazing talent and ability to the studio whenever they decide to undertake a project, and in "My Kinda Christmas" they use their skills to give one of the world's most beloved musical treasures the modern makeover it deserves. There are traces of Christmas classics that make no attempt to hide themselves in the grooving ribbonry of the chorus and intro alike, but make no mistake about it – this is an original slab of holiday music might. If you're looking for a new addition to your favorite winter playlist, you would be hard pressed to find a more affective and sophisticated song than this one. It's got all of the necessary aesthetical ingredients to give your holiday season just the sugary kick it needs to feel complete.
 DEEZER: https://www.deezer.com/en/album/76369322
Gwen Waggoner 
The music of Norm Adams and Julia Robertson has been heard all over the world due to the radio plugging services offered by Musik Radio Promotions. Learn more – HTTPS://musikandfilm.com