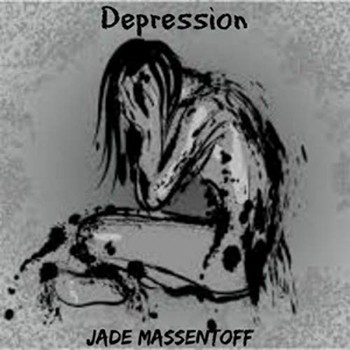 FACEBOOK: https://www.facebook.com/jademassentoff/
"Depression" by Jade Massentoff, aka Jade, the new single produced by Stephen Wrench and promoted by Musik And Film to worldwide radio, is a downright masterstroke of music which defies the static norm structures of Adult Contemporary songwriting standards. Jade is also a dancer, so her soulful R&B vocal approach goes above and beyond the limited realms of pop to bring out the most in a song that words can't quite describe without giving too much away. But one thing's for sure, this is a world class singer with an obvious talent to expose and I can't see it going anywhere but sky high, she's that good and so is the song.

Jade is every bit as beautiful as her voice, and that is just a fact which can't be disputed. But it's not everything because the music always comes first, and that being said, "Depression" is an epic delivery in the sense of any Grammy worthy effort to engulf the ears of the masses. This is no ordinary song, it's extraordinary but nevertheless accessible over it, and that's where some of the mystery comes in with her fantastic voice possessing a breath of extremely fresh air. The type of thing you don't hear every day but can easily use so much more of. She is a premiere talent, there's no question about it.

This song was recorded in a top recording facility and the production by Stephen Wrench put the proverbial icing on the cake. The epic anthem was recorded by Jade as a dedication to her brother who she found unresponsive in his room one night after consuming his entire bottle of depression medication, resulting in his passing two days later. You can hear it in both the lyrics and her voice that she identifies with every word, and it's an astonishing vocal feat of colossal proportion. If an EP or full-length album is in her future, the world will be a better place because it can use it.

Singing about something you're going through that includes a battle you just can't win could perhaps be some of the magic in Jade's ability to emote such an honesty, but it's just an observation after being so captivated in just one listen to something that only comes around so often. I've always believed if you can nail a good ballad, the radio will follow, and that might help describe the demographic aim here which does also defy categorization no matter where it winds up in the vast sea of genres and sub-genres.

There's an astounding amount to enjoy here from an artist who comes out of left field so strongly you almost have-to remind yourself there's still a lot of real music by real artists going around, you just have-to find the diamonds in the rough and Jade Massentoff is certainly no exception to that rule. This is an artist with the ability to attract the widest audiences with a song that deceives because of its title, so don't let it stop you from pushing play, you'll not only be pleasantly surprised, you'll be as completely stunned as any self-respecting music lover should be.
KKBOX: https://www.kkbox.com/hk/en/album/dexwTdK8fAtWo0F2TEHB009H-index.htm
The music of Jade Massentoff has been heard all over the world due to the radio plugging services offered by Musik Radio Promotions. Learn more – HTTPS://musikandfilm.com 
Gwen Waggoner