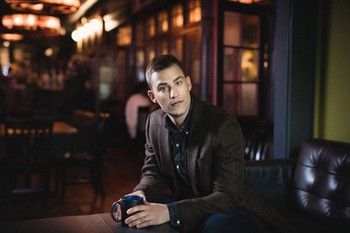 Within Chris Jamison's thematic repertoire, new single Faith. Hope. Love. is something of an anomaly. Marking a breakdown in Jamison's humbly playful exterior, it shows the young singer-songwriter – the third place runner-up on season 7 of The Voice – getting serious, expressing fear and grief through the lens of shared trauma. "It's one thing after another; one more life that is lost," he sings through the chorus in a timorous falsetto.
The song was written after a string of tragedies that all took place in Florida in 2016. The Pulse Nightclub shooting in Orlando saw forty-nine people killed. Former The Voice contestant Christina Grimmie was shot and killed while signing autographs – less than a month after Jamison last shared the stage with her.
The events forced Jamison to muse not only on the nature of violence itself, but to assess his own fears. Should he be afraid for himself? His bandmates? Is there a solution to violence? Faith. Hope. Love. is Jamison's way of admitting he doesn't have a solution, but he has some ideas. The message is a hopeful one: Jamison pieces together a song, tectonic and skeletal, that nonetheless reverberates with truth and kindness as he suggests that faith, hope, and love, in his experience, might just help solve some problems.