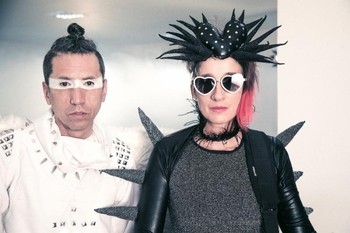 After an extensive tour through United States, Spain and Mexico, Aterciopelados presents the official video of ´DÚO`,their most recent single nominated for Best Alternative Song, part of the album ´CLAROSCURA`; also nominated in the Best Alternative Album category in the 19th edition of the Latin Grammy Awards.
´DÚO` is an autobiographical song that tells the story between a "pestilent" punker of Restrepo (Héctor Buitrago, founder of the emblematic Punk band La Pestilencia) and a preppy Colombian girl (Andrea Echeverri, artist graduated from the University of Los Andes [Colombia]); two worlds full of contradictions that demolish barriers and social norms. From tolerance and friendship they construct an aesthetic and a new sound: a mixture of Art Nouveau angels, popular culture of San Victorino, shamanism, and punk taches and skulls.
The video is composed of a series of animated black and white illustrations that are integrated into the live recording of Andrea and Héctor using the point tracking technique. The shooting took place in Bogota under the direction of Rafatoon and the animations production in the studios of the DUO team.