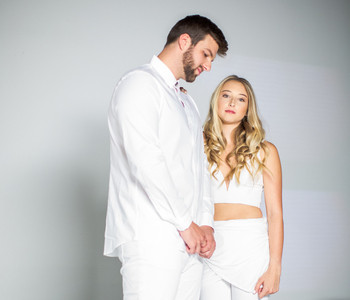 Eclectic pop duo Our Fire released a haunting new video for their lively EDM/Pop track, "Hard to Breathe." The track showcases catchy pop hooks and an invigorating beat drop that brings an EDM element to the mix. The video, directed by Rozet Tandy, features Our Fire performing "Hard to Breathe" in the midst of warm-hued candles and glowing light bulbs hanging from the ceiling.
The video's cozy scene takes a creepy twist when a woman enters, crazed and slamming her head into a picture frame. We see her walk on shattered glass, become drenched in water, and writhe in distress in a fluorescent bathroom stall in such a way that resembles a scene from a horror movie.
Our Fire is comprised of Jake Spooner and Nicole Babin, who began their music careers individually with separate projects in different styles and genres. They joined forces to write for other artists, but discovered a unique chemistry in the studio and decided to continue their musical pursuits together. Today, the group is based in Boca Raton, Florida, and focuses on styles of pop/Americana. They regularly work with multiple Grammy-winning and multi-platinum producers in Miami, Atlanta, and Nashville.