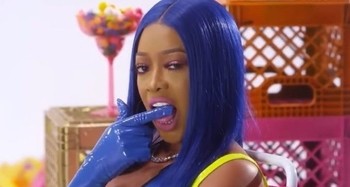 A celebrated and highly respected rapper, Trina has worn the label of an icon for twenty years. With an aggressive flow combined with mind blowing lyrics, her musical style is often imitated but never duplicated. Living like a rock star, she has explored innovative and creative ways to set her talent apart from other female lyricists, while also evolving faster than her male counterparts. Ever since her debut in 1998, she has become a worldwide sensation and has been named the most consistent emcee to date. Gracefully taking charge of the charts, she has climbed the numbers with elegance. With no need for dis tracks or cheap tricks, she has something else up her sleeve for 2018.
Starting before present day rappers were even born, Trina sits on her throne as the self-proclaimed "Diamond Princess". She got crowned into the scene with her feature on Trick Daddy's "NANN" and released her debut album Da Baddest Bixxh in 2000, later followed by Diamond Princess (2002), Glamorest Life (2005), and Still Da Baddest (2008). Her 2010 release AMAZIN hit #1 on the Billboard Independent Albums chart, #2 on the U.S. Billboard Top Rap Album charts, and captured the Billboard 200 charts at #13. She has also released 2 EP projects including Blue Magic, and 14 mixtapes. If that wasn't impressive enough, she has made appearances on LogoTV, MTV2, VH1, MTV, BET, The Monique Show and CNN's "Nitecap." Due to her success, she was able to found her own record label imprint, Rockstarr Music Group. Present day she has teamed up with Grammy award winning producer Rico Love for her sixth album The One, which is a captivating compilation and tribute to her die hard and lifelong fans.
Once again supporting up-and-coming female rappers, Trina has teamed up with City Girls and Arie for her latest music video, "I Just Wanna." Here, she's giving us an entirely new era with bubblegum pop visuals and a lollipop to match. Painted on a yellow canvas, the video lights up while their hairstyles mix and match with each transition. Posted up wearing pool floaties on their heads, the artistry stands out while their flows make a splash. Inside the mind of a bubble gum machine, she puts a quarter in her verse and cashes out. The video closes with all the ladies looking like snacks as we ring in the new era for this Diamond Princess.