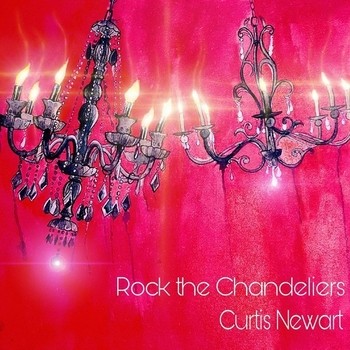 Curtis Newart sings with a voice like Conor Oberst. While Oberst's music leans toward the Americana end of the musical spectrum, though, Newart is more comfortable with danceable rhythms. He may not always rock the jukebox, but he sure knows how to get chandeliers swaying.
All these ten songs are originals, save for "Man on the Moon," a cover of an R.E.M. hit. It's not just any R.E.M. song, though, as it's the title track to a film soundtrack for an Andy Kauffman bio pic. Newart sings it faithfully, with a vocal vulnerability similar Michael Stipe's original. One wonders why he chose to sing it, though. Is he fascinated by Kauffman, R.E.M., both or just a fan of the song.
"Superhuman" is one of the album's best tracks. It's driven by an old school synth backing. Newart sings the praises of someone who may not have superhero super powers but might still have what it takes to save the world. Truth be told, super powers are only found in comic books and up on movie screens. The true heroes are the fine real people in our lives that must be recognized for the good they do.
Newart is at his most passionate during "Fork in the Outlet," which – though still danceable – features the singer's rough-edged singing voice. Rather than just vocalizing with a vibrato-drenched tone, Newart sings this one with a gravelly vocal approach. When he admits, "I can't control my urge," we're privy to a side of Newart heretofore unseen. Although synths are Newart's instruments of choice most the time, "Thru the Keyhole" begins with an ominous guitar part. The song does eventually introduce keyboards and a drum machine, but it acts as a reminder that Newart is likely a rock and roller at heart. The cover of R.E.M.'s "Man on the Moon" is also a guitar-centric track.
The story of Newart's career is a fascinating one. He began working in various roles, including that of actor, stage manager and publicist before he received career help from two notable folks. One was Thor Arngrim, who once managed Liberace and Debbie Reynolds. The other was Norma Macmillan, who was the voice of the cartoon character Casper the Friendly Ghost. Although he was born in Calgary, Alberta, Canada, he now calls Superior, Montana home.
This man's rubbed shoulders with a lot of famous and infamous people, ranging from David Bowie's ex-wife Angie, to Phyllis Diller. Such a fascinating life is partially why he creates compelling music. One can't have such memorable experiences without those encounters influencing and inspiring one's music.
Rock the Chandeliers is Newart's second album, which he put out on his own label, Immaculate Records. It's been a long time since Newart has put out a full-length, as his first album, Exploits in a Modern World, came out way back in 2006. He did also release a stopgap measure with and EP called Exploits Remixed, which featured remixes of four songs from that debut.
A title like Rock the Chandeliers reads like a party that's gone way out of bounds. With his quirky singing voice and songs, Curtis Newart is just a little left of center, which is always a good thing.
-Dan MacIntosh