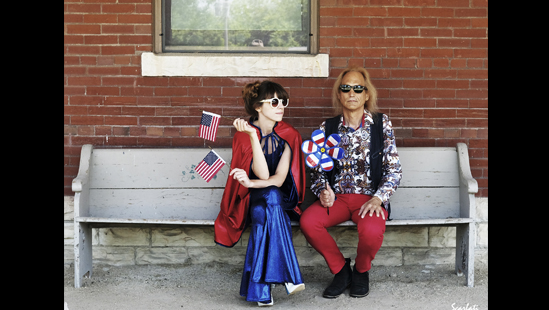 AV Super Sunshine is the brightest at the ball. With his drive and energy to be a star, he does more than just shine, he radiates. With his motto, "Peace, Love & Modern Classic Rock with Bell Bottom Bass" he operates from a place of love as he expresses his creativity through a trance. With the world today being so cold, he redefines his darkest memories and paints over his past with a lighter brush.
Gracing us from Wisconsin, AV has traveled all over the world in the pursuit of music and truth. Since meeting in 2014, he and his star-crossed lover Philomena have created something beautiful during their lowest times. In 2015 he put out his first EP Just Like Kurt, followed by his first studio album release, Baby Goodbye. In 2016 he released Bass Face which was described as "nothing less than a psychedelic good vibration audio experience." To highlight the success of this album they released a remix edition the following year.
Inspired by the 70s-era Aerosmith, Zeppelin and Jimi Hendrix, AV Super Sunshine rocks out hard and love even harder on the new track "TIME BOMB" from his upcoming release Candyland (a dance remix version of the album is also in the works). Currently sitting at #1 on the Starfleet Music Pool Crossover Chart and Dance Chart, #2 on the Euro Indie Music Chart, and #2 on the Euro Indie Top 200, "TIME BOMB" was recorded in Nashville with producer James House and mega-engineer Joe Costa. DJ Michael Bradford added a dance club spin, making the song starfleet – and dance-floor – ready.