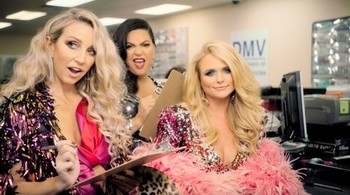 Country supertrio PISTOL ANNIES have released the official video for their single "Got My Name Changed Back" off their anxiously-awaited third album INTERSTATE GOSPEL, releasing this Friday Nov. 2 on RCA Records Nashville. Watch the video.
Penned by the Pistol Annies, "Got My Name Changed Back" is the latest glimpse into the upcoming 14-track album, which showcases the group's stunning harmonies. Moving from celebratory anthems, classic country storytelling and vibey swagger, the Grammy-nominated trio are back and sounding Annie-er than ever.
Following last week's sold-out show at Nashville's historic Ryman Auditorium, the trio will perform at NYC's intimate venue The Town Hall this Friday, Nov. 2 and LA's breakout downtown concert hall The Novo on Nov. 7. These shows are the Annies' way of inviting their fans into their living room to hang, talk, laugh and commiserate about real life while singing their own kind of country music.