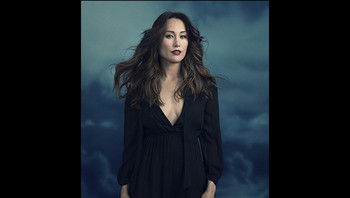 Every filmmaker knows there is no special effect more impressive than the human face. Nothing carries more meaning, or elicits a greater reaction in an audience, than a close-up. If a musician is passionate, a music video director doesn't need to cut away to create a gripping clip. Throughout her video for "Swept Away", Los Angeles musician Malea's face fills the frame- but the video hardly needs anything else.
Because of her wide scope and her breadth of experience, Malea has always been a remarkably complete artist. She's most associated with electronic pop: "Give", her debut single, scaled the Billboard Club list in 2014. The slinky "One Hot Mess" also topped the Club chart, but Malea is also a classically trained singer with roots deep in the confessional singer-songwriter tradition. The title track on her new EP Swept Away, contains plenty of electronic elements, but at heart, it's the sort of timeless piano ballad that would have fit well on a radio playlist in the 1970s. Much of Malea's singing on "Swept Away" is wordless – rich and resonant, ethereal and longing, at once reminiscent of light opera and romantic soul.
Director Derek Weissbein has been making shorts and videos for many years, but he's probably best known for his work on Layla and Other Assorted Love Songs, a film about the love triangle between George Harrison, Eric Clapton, and Pattie Boyd. He recognizes that popular entertainment is driven by personality – and Malea has personality to burn. To match the dramatic, otherworldly quality of the track, he superimposes Malea's face atop a shifting, cosmic background. From there, Malea's hypnotic performance does most of the work, although he does make room for trippy, destabilizing digital effects. In one sequence, her face is covered with reflective cosmetics that make it look as if she is radiating light. Her eyes, however, are never obscured, and deliver an unbroken stare.