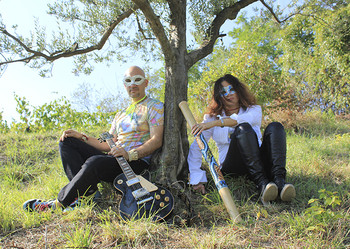 The Silver Snails are a band with a goal (to create the world's finest pop rock) and a mission (to open human hearts through sound, light, and word) as lofty as they come. Their uncompromising, hands-on approach to quality and craftsmanship resonates across their media and branding. An Italo-US joint venture between lead singer Lucas Ward and his wife Elisa Fantini, The Silver Snails take inspiration from the family's rustic backdrop in the wine country of Romagna, Italy, yet fashion a contemporary, artisanal pop-rock for a global audience, like a fine silk tie from a Florentine fashion house.
Songs on The Seven Melodies, the group's ambitious, harmonically rich debut album, are sung in English, French, Italian, Mandarin, and even a bit of Sanskrit. The style of the group is playful and theatrical, strongly reflecting early imprinting of Beatles, Stones, Bowie, Floyd and other invasive British species. Yet despite their galactic ambitions, The Silver Snails are an act distinguished aby intimacy. Based around an actual nuclear family, the music they make together is warm and welcoming; the themes may be cosmic, but the sound is approachable and friendly, full of analog 'real instruments', lush vocals, well-crafted beats and textures, and infectious melodies.
Track #4 of The Seven Melodies, "Ave Maria a Zio Virgilio", was written by Lucas as a requiem for Elisa's Uncle Virgilio, a devout follower of Mary. The song features real strings over tango-electronica, an 'angelic chorus' echoing Elisa's soaring soprano vox, Lucas rapping verses from The Bhagavad Gita, and a 'dueling' double-accordion solo in the middle.