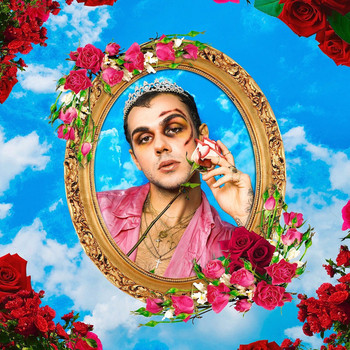 Every once in a while, there are times where people should just go do something…Anything…Go run…Go walk…Go on a vacation…Just GO. Wherever your mind takes you, just go and make sure that you do one thing: write your journey every step of the way. When your words are written down, see what you see…If anything that you write is like Matty Marz and his new album, 'Dandy,' then you are in good hands because it is a ton of great music all in one setting and that's just saying it politely!
Matty Marz, a unique individual, just seems to come out of nowhere with this awesome album, 'Dandy.' There's irony…There's message…There's mood…There are moments…And then, there's the music! 'Dandy' is an eclectic arousal of fun, love, romance, description, even pain, and sound coming in that ranges in an assortment of pop, rock, eclectic vibe, hip-hop, R&B, and that's not even scratching the surface of Matty Marz or his talent! In comparison, this music screams of the 1980s, 1990s, and especially the 2000s. Artists like George Michael, Dru Hill, Vanilla Ice, Mark "Marky Mark" Wahlberg, Bon Jovi, and B2K all come out but the messages that are spoken are what truly speaks volumes—-and I do mean volumes! The album 'Dandy' has a solid 10 songs and Matty Marz goes in explicitly on some details: Mood.
The album starts with 'Dirtbag.' 'They call me a dirtbag 'cause I dressed in all my sins. Nail me straight to a cross because I love the skin I'm in.' TALK ABOUT BOLD: Matty Marz is comfortable no matter what he is doing and 'Dirtbag' is the perfect response coming from someone that loves himself, loves what his life is about, and loves his friends and family too! The person in this song is a true rebel and has a completely bad boy theme for his entire life…Hmmm—I wonder if this is the real life that Matty Marz lives because if so, he is probably more a hero than an artist! And this is the type of sound that needs to be heard in a world that is full of tons of outrageous events happening every day where people aren't able to really voice their opinions without being attacked for them. Thank goodness there's Matty Marz!
Moving forward, 'Dandy' showcases 'Stay, Wilting Rose Monologue, I Got A Crush On You, Slow Motion, and We The People.' 'Stay' introduces yet another side of Matty Marz. Here we get to see the side of that emotionally compelling love song to a person who finds themselves. A very pop-infused, almost Jason Mraz song that showcases where a person has made mistakes, lost some friends along the way, but still continues to fight on. A great feeling but also yet another side that somehow shows just how strong of an artist Matty Marz is. Next, 'Wilting Rose Monologue' travels to a very EDM, Alternative side that really works. Another self-discovery song that really challenges who we listen to even if it means not listening to ourselves at all. Good stuff! 'Wilting Rose Monologue' is a very Jaden Smith and Sam Smith blend all mixed into one sound that really pushes the boundaries…Hmmm Smith and Smith: Am I onto something? Sometimes there is that need to hear the stuff people try to keep from saying. There are people that want to hear the pain that they have been in from someone else's lips so that they can release their silent sighs in the air and Matty Marz is just the artist that anyone could do this with. Coming right along, 'I Got A Crush On You' sets the mood for everything! Reeking of our beloved Prince, this catchy, sexy song is perfect to send to that secret crush! A favorite of mine, this song is everything that I need my secret crush to know—even though he already knows! 'How the hell did this happen to me? In my head you are stuck on repeat,'—-direct lyrics, but guess what? This song is stuck on repeat! 'Slow Motion' sets yet an even darker, mellow side to Matty Marz. Just where did he come from? 'Slow Motion' sets the soundtrack of a person out of control trying to gain some kind of ground to find themselves and as beautiful as the production is on this song, guess what? Every person living on earth has felt this very feeling. A big computerized, swelling and drifting wave of rising sound on this song brings a heartbreaking result of someone just needing to get away from it all. Beautiful…Drake must have been in the studio when this song was being recorded because as great as it is, it also has a major hip-hop push as well! 'We The People' takes over the stage and comes in with an anthem that needs to be the campaign slogan track for the Primary vote next month in November! 'We The People' unites everyone and makes a very important stance where it sets the tone for everyone to come together so heads up—next month, use this song as fuel and get out and vote!
Matty Marz comes back with even more amazement! 'Voices In My Head, Pretty Boys, Sober, and Stay (Reprise)' all showcase even more reasons of why Matty Marz just might be a hidden gem that needed to make 2018 an even more memorable year! 'Voices In My Head' is the anthem for someone that truly hears those voices and we all hear them. These voices ask a person just what they are doing and ask the questions that many are afraid to answer. Very pop, and very techno which truly is the heartbeat and soundtrack to life right now! The style seems to travel in so many different directions that it is hard to label Matty Marz and you know what? I love THIS very much! 'Pretty Boys' is the song that shows a softer romantic side of Matty Marz. 'Fall in love with pretty boys—-Pretty face without a name…"—deep lyrics from the mouth and heart of Matty Marz and he seems to be trying and trying to love that special someone but just as love does, love also does end…But, Matty Marz is addicted to love and hopefully this addiction will keep the music coming! 'Sober' is a heartbreaking song showcasing a person driving and watching the city, however they're no fun when they are sober. Sadly, when things get back to normal, life is not as great. Pain, memory, and inside feelings are all showcased in this song yet the bad habits are also passed around verse after verse. The truth is that not all of us can handle the truths that are often found in relationships and Matty Marz has passed some major ones in this song. As sad as it is, this song is very deep and unforgettable. Lastly, 'Stay (Reprise)' is this amazing continuation from the second song of the album, another personal favorite…What a way to end the album? The guitar, melody, and captivation of Matty Marz, his heart, and his vocals are beyond describable. It's one thing to record, but it is another thing to literally transform your soul into something that everyone can turn on and be soothed by. What a great ending to an already amazing album that showed us how to love, how to have fun, be bold, how to dance, how to say what we felt, and how to take the pain away! Wow!
Matty Marz is definitely someone to watch in 2018. When you see a name, you often say it out loud. Matty, I said your name several times: Not because I wanted to make sure I was pronouncing it right, but because I wanted to be sure to keep it in my databases to be able to closely follow as you progress. This album, 'Dandy,' was one of the greatest surprises and discoveries and allowed me to travel to another portion in my own life. Often, music is supposed to be able to make people think, while also allow people to have a moment to feel great and dance. The lyrics, production, and the entire album were one of those mouth-dropping moments, and THAT IS ALWAYS SOMETHING THAT I LOVE THE MOST! If you see the name, "Matty Marz," please remember it because this young man has something special! I highly recommend this album, this artist, and hope that you discover why I love what he does! He's just that dandy—guess that's why he named his album such!
Rating 10 / 10
By Kim Tibbs