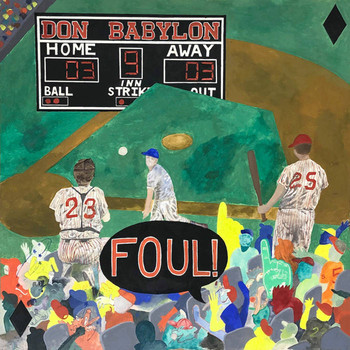 Virginia based trio Don Babylon, following the release and subsequent touring on the back of their previous release Babe, decamped to Philadelphia, the City of Brotherly Love, in hopes of producing something a cut above their previous work. Foul! \is a collection more than adequate to the task thanks to the obvious quantum leap forward in songwriting while still retaining a strong autobiographical connection for the band as a whole. Their previous release Babe garnered the band considerable praise and plum touring spots, but Foul! makes it clear that Don Babylon are still a hard scrabble outfit contending with the vagaries of everyday life while still exhibiting the necessary commitment to help their musical artistry grow. Don Babylon's Foul! has great production values, but never disconnects listeners from the music's core immediacy.
Aubrey Neeley's terse rhythm guitar opens the first song "Lose Sometimes" and his laconic singing style is an excellent match for the track, but he varies his delivery accordingly throughout the course of the song. The song builds into a crashing quasi-punk before Don Babylon slows things up and takes the track in a decidedly different direction. They do launch back into the uptempo thrashing before song's end and attack it with more energy than ever before. There's some obvious humor laced through the album's second cut "Line Cook Blues", but there's an equal amount of seriousness as well. It's a ragged but right take on blues tradition, filtered through Don Babylon's unique experiences and skill set, but you never get any sense of the band spoofing the form.
"Bedsheets" has a slightly off kilter stance and chiming guitar chords, but it nevertheless still rates high among Don Babylon's more commercially minded efforts. There are none of the sharp stylistic turns built into this tune we hear with other Don Babylon tunes, though they certainly maintain their own distinctive identity through the course of the song. The introduction of organ into the song "Hopeless Man" gives it an additional layer of pathos it might otherwise lack and Neeley has a wailing quality rising from his vocals that's bluesy, yet never overwrought. The deliberate atmospherics of Neeley's singing are clearly tied to his guitar work and both elements feed into one another without ever upsetting the song's balance.
"Rocky XXVII", or "Rocky 27", is one of the most clearly autobiographical songs included on Foul! and chronicles, in part, the band's relocation to the Philadelphia area without ever betraying any obvious sentimentality. It begins in rather sparse fashion but soon expands into a crashing alt rocker with Neeley's vocal ranking among his finest moments on the release. The album's penultimate cut "Mean Streets II" takes the band's sound back to a hard-edged punk ethos and doesn't pull its punches clobbering listeners upside their collective heads. It's one of the album's most rollicking musical rides. Don Babylon's Foul! features some exceptionally sharp pieces of rock song craft while still retaining all the necessary bounce needed to engage audiences and clearly deserves to be regarded as Don Babylon's best release yet.
Gwen Waggoner