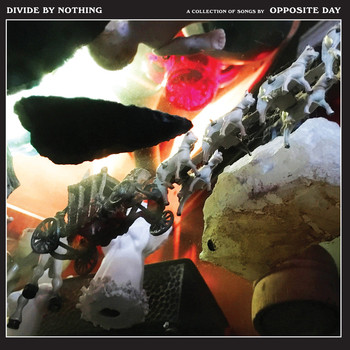 From the moment that the airy minor key dirge of Sam Arnold's guitar seeps its way through our stereo speakers into our consciousness on "Day of the Triffids," there's no disputing that Opposite Day's new EP Divide By Nothing has more fire and fury in store for us than a typical modern rock extended play would. Arnold, along with bassist Greg Yancey and drummer Eoghan McCloskey, holds absolutely nothing back as we descend into the depths of a sonic hell created exclusively by the melancholic juxtaposition of the instruments clattering against each other. The tempo unapologetically ebbs and flows with a reckless impunity that is infectiously memorable, and before we have a chance to catch up with the gallop of McCloskey's violent percussion the track fades into the void and all that remains are ashes of battered and burned guitars.
We don't waste any time before jetting straight into "Zeroes in Your Eyes," a mathy wormhole of violent interactions between Arnold, Yancey and McCloskey that takes from us as much as we take from it. Unlike "Days of the Triffids," which buries Arnold's vocal beneath the messy array of guitar and bass, "Zeroes in Your Eyes" puts the lyrics front and center, allowing us to consume the enigmatic prose in equal sips beside the jazz fusion-inspired arrangement. This song has so much urgency to it that the tempo becomes a little grating once we hit the halfway mark, but Arnold's singing acts as a calm center amongst the brutality transpiring all around us.
"Zeroes" blazes into oblivion in true stoner metal fashion before setting the stage for the tension-building guitar lick that introduces us to "The Only Way to Travel." This track is far more whimsical and punkish than its predecessor and has a much more controlled sense of vibrancy to its main riff, to the point where I would even call this one of Opposite Day's more pop-leaning compositions. Yancey goes to town in the build up to the opening verse, but it's a drop in the bucket compared to what he throws in our direction in "Penetrating Atmosphere," the most experimental and oddly affectionate song on the record. I prefer when this band drops their guard and really lets their left-field aesthetic take the wheel, and this to me is a culmination of their collective talents presented in a single song.
Divide By Nothing comes to a conclusion with the all-out psychedelia of "Hemonaut," which fuses the band's melodic, alternative rock approach to melody with their progressive metal influences for an early 2000s-style thriller that is as chilling as any of their classic material. The dissonance created by the dragging, off-kilter percussion and Arnold's fuzz-laden riffing is opulent but not sparkling, and rather than inserting a gargantuan guitar solo towards the end of the track we're treated to an exotic breakdown that the likes of Django Reinhardt would be proud of. From beginning to end, Opposite Day's new EP will evoke plenty of spine-tingling catharsis and unrestrained headbanging for rock n' roll fans, and it lives up to the high standard the Austin band has set for themselves in the bulk of their work to date.
Gwen Waggoner