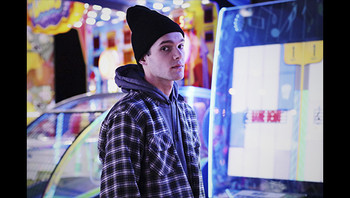 "Yeah, I tried to sell out", concedes Isaac Castor in the playful clip for "Da Bounce", his latest single, "I didn't sell none". Candor like that from a talented rapper is refreshing and unexpected, but honesty is what distinguishes Castor from his peers. He's open about his limited bankroll, his distaste for emcees who push drugs in their songs, and his frustration that he isn't world-famous yet. Well, give it some time – Castor is only 22 years old. He's already developed a signature sound, style, and approach to lyrics. Our prediction: if he keeps writing songs as irresistible as "Da Bounce", he's going to need some new things to worry about.
Site – http://isaaccastor.com/
The Michigan-based rapper has already built an impressive resume. He's opened for Mac Miller, he's been praised by XXL, and he's appeared at the Vans Warped Tour. Old Soul, his new set, features guest performances and production from some of the most intriguing artistic voices in contemporary hip-hop, including Nate Fox, who worked with Chance the Rapper in the Social Experiment, the incendiary L Gulley, and the always-thoughtful Blu, author of countless classic verses. "Da Bounce" was produced by L05, a fearless Los Angeles musician whose work with the futuristic Celsius Electronics splits the difference between gritty hip-hop and classic Motor City electronic music.
For this track, L05 keeps it straightforward, and gives Isaac Castor plenty of room to get confessional, crack wise, and introduce himself to the uninitiated. They've also come with a rapped chorus that's liable to get lodged in your head indefinitely. "Da Bounce" makes good on all the promise that Castor has shown on his mixtapes and independently released albums – it's the sort of undeniable performance that puts a regional artist into the national conversation.