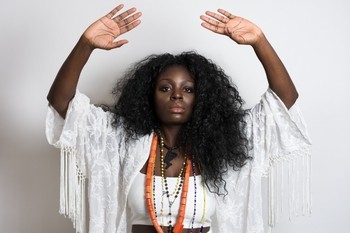 Aadae has had a busy 12 months. Festival performances at Green Man, Latitude, All Points East and a host of other slots meant a summer on the road, a frenetic schedule which included being invited to Australia to take part in a huge tribute to Nelson Mandela.
New single Carousel Horses drops on 23rd October. The single, inspired by the circular repetition of a previous relationship, sees a shift in tempo from Aadae – a more vulnerable and exposed side to her afrobeat inspired pop.
Born in Nigeria but raised in Peckham, her songwriting speaks of family parties spent listening to high life and Afrobeat, long nights in South London dancing to UK garage, and an innate love of the impact pop songwriting can have.