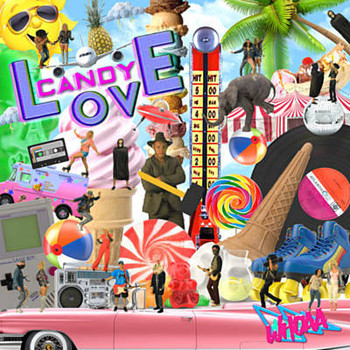 WHOAA embraces a cool 80s pop funk style with the gorgeous "Candy Love". Aptly named, the sweetness of the sound works wonders. By incorporating a great deal of playfulness, the track becomes all-encompassing. Over the course of the piece WHOAA's style and delivery recall Neon Indian's later work yet remains distinctly its own thing. Layer upon layer of sound makes its way into the mix, as the joyful grooves and careful arrangements evolve at their own pace. Ensuring that not a single gesture is wasted, WHOAA lets their sound sprawl incorporating a great many stylistic flourishes into the scope, ranging all the way from a fondness for the 80s to a retro-futuristic vibe.
An epic grandeur introduces the track with sparkling synthesizers. Not a single element is wasted, from the gracious handclaps to the rolling rhythms. Lyrics further emphasize the joyous attitude that seems to radiate throughout the whole of the piece. Most of the track appears to be absolutely sun-soaked, with a unique focus on a summery style. The attention to detail ensures that the whole of the piece never loses its sense of joy and purpose. Layer upon layer comes into the mix giving everything a kaleidoscopic approach. Proving to be great storytellers, WHOAA ensures that the song embarks on a great journey. Everything appears to bounce along at its own leisurely laid-back pace.
"Candy Love" shows off WHOAA's impeccable ear for melody and incredible hooks, with a sound that lingers in the mind.
https://www.instagram.com/saywhoaa/
Beachsloth –