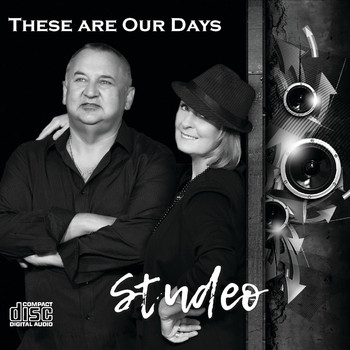 STUDEO's "These Are Our Days" radiates warmth and tenderness. Nicely bringing together neon-hued soulful balladry along with a soft rock emphasis, the whole of the album resembles a grand journey. Cinematic flourishes add such an epic scope to the mix. By far the highlight of the album comes from the intensely felt vocals. Lyricism has a gorgeous quality to it as it swirls about in a radiant haze. The multiple layers of sound work in unison to create a great tapestry of sound. Infinitely tasteful, the album has a timeless classic quality to it. Every detail feels carefully considered from the slow contemplative rhythms to the nimble guitar riffs.
"Can't Stop Loving You" opens the album on a high note, featuring some particularly fine vocals. Going for a distinctly 80s pop sound is the gracious "I'm Falling For You". Things are stripped down to the absolute essentials on "These Are Our Days". Reflection reigns supreme on the nostalgia-tinged "This Time". A jazzy airy tone defines the lush dream world of "Our Perfect Place To Be". Fiery to its very core, "My Superman" serves as the true highlight of the album. Playfulness takes over the gentle tempos of "Anymore". Delicate guitar work rules over "Island Paradise" which has a bit of a tropical vibe. Neatly bringing the whole of the album to a fantastic close is the spacious "Even Misery".
Official Website https://bongoboyrecords.com/studeo/
With "These Are Our Days" STUDEO creates a carefully crafted message, one that comes straight from the heart.
THESE ARE OUR DAYS by STUDEO
1. Can't Stop Loving You 3:37
2. I'm Falling For You 4:13
3. These Are Our Days 4:07
4. Tomorrow Is A Brand New Day 4:00
5. This Time 3:40
6. Our Perfect Place To Be 4:07
7. I've Loved You From The Start 4:55
8. My Superman 5:24
9. Don't Say Goodbye 3:31
10. Anymore 4:25
11. Island Paradise 4:17
12. Even Misery 4:28
– Beachsloth