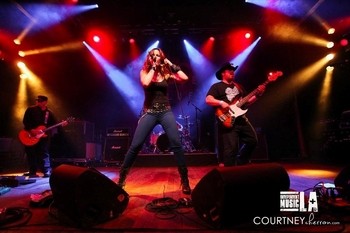 With hard driving yet melodic guitar lines, the song elegantly blends the styles of hard rock, country and blues that delivers a song drenched in unique and charismatic character that is worth repeated listening.
Often referred to as the "local supergroup" in Los Angeles due to its members, Uniform Standard is fronted by lead singer Dana Andrews, off of the reality show Rockstar:Supernova on CBS hosted by Dave Navarro, who delivers a vocal range that is sure to perk any ear up. The other members consist of T-Roy as the drummer and longtime Hollywood concert promoter, Mr. Trent on the guitars and Dreamrack studio co-owner, and former Miggs bassist Mark "Pork Chop" Baker.
https://www.instagram.com/uniformstandardsoul/
Uniform Standard has remained a potent live draw over its 7-year existence, routinely selling out Los Angeles venues including The Viper Room, House of Blues, Bardot, The Globe, Molly Malone's and The Silverlake Lounge, as well as appearing on CBS Television's Lexus "Music Uncovered" with Erica Olsen.