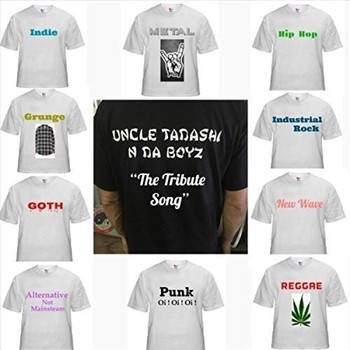 Uncle Tadashi & Da Boyz offer the sweet summery sounds of optimism with the joyful "The Tribute Song". Highly playful, the arrangement has a breezy air to it while everything rushes forward with a peppy rhythm. Vocals rest at the heart of it all giving the song a great deal of soulfulness. Lyricism opts for a highly descriptive, stream of consciousness sort of approach. Stylistically, they let pop serve as the great unifier of the unique feeling, whether it is pop punk or twee pop, they make sure that every moment of giddiness and pure contentment comes to the forefront of the work.
Starting up in the thick of it, the song begins with a great overflow of energy. From there they settle into a sweet, satisfying groove. Bass anchors the track while it ensures that the groove carries it along with a slight dub influence. Evolution of the piece happens with subtle hints, mostly within the vocals. Letting things expand slowly, the piece has a freewheeling, free-spirited sort of style. Everything comes together in a vast kaleidoscope of color, for they ensure that every element of the track is given plenty of room to breathe. For the final stretch of the piece the level of pure togetherness becomes readily apparent, as it all ends in a most lovely, lilting fashion.
https://itunes.apple.com//album/the-tribute-song-single/1438222245
On "The Tribute Song" Uncle Tadashi & Da Boyz go for a childlike level of enthusiasm, a wonder with the world that knows no limits.
By Beachsloth