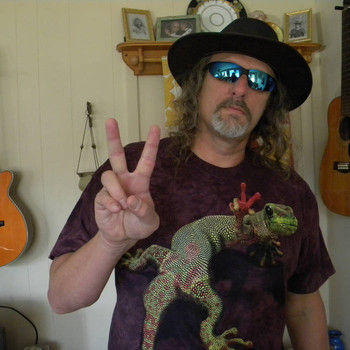 Matt Kjeldsen's Last Days opens with "Closer to Texas," a kind of love song to the Lone Star state. One imagines a singer/songwriter can't truly be from Texas unless he/she love that large Southern state.
Kjeldsen looks like a wayward hippie in pictures. His singing voice, however, is sometimes gentler than one might imagine. He's a sensitive soul, and this album's title track is a pretty song about – perhaps – the end of the world. If not the end of the world, at least a desperate situation.
With "What Once Was," however, Kjeldsen trades his soft singing style for an approach far more worried-sounding. Over a twangy, far away electric guitar part, and some backwards masked drums, Kjeldsen sings, "My best days are past" with a song where he declares everything shattered. It's a song of regret. "We are all a part of it/What once was," he sings with a backwards glance.
Audio – https://mattkjeldsen.bandcamp.com/album/last-days
"Ghosts and Shadows" is another moody track. Built upon a thumping rock rhythm, Kjeldsen sings philosophically, again. This perspective contrasts starkly with "Closer to Texas," which finds Kjeldsen singing sweetly over an acoustic guitar. If this ("Closer to Texas") were the only track released, one might assume Kjeldsen was a country singer. He just sounds so comfortable within this acoustic arrangement.
"I Should Know Me Better Than That by Now" is another acoustic number. Its lyric finds Kjeldsen waxing introspective. It's the sort of song where a man takes stock of who he is and where he's at.
Texas singer/songwriters are some of the most dependable artists in the Americana genre. They have an unusual way of being both sophisticated and downhome simultaneously. New Yorkers, like Paul Simon, can't pull that off. Townes Van Zandt could, and Willie Nelson and Steve Earle sure can. While many of these are sonically qualified to make it in Nashville, though, they're often also a little too smart for country radio. They may be as skilled at pulling off a drinking song as the next country star, but they just may follow up such a song with, say, a lyric about some Eastern religion or other.
This five-song EP is a sort of tale of two cities, in that the first half presents Matt Kjeldsen as a beatific, meditative folk-ster, whereas the second have makes him out to be something closer to a brooding rocker. Then again, this brief collection may just be showing off two sides of the man. He could be both things at once.
One can go on forever attempting to pigeonhole an artist stylistically. But really, where does that get us? Nowhere, really. It's better just to praise his attributes, appreciate his songs and be thankful there are contemporary iconoclasts still creating music today. With the shrinking commercial music market, executives more and more seek out performers that can be easily packaged and sold. Kjeldsen is not one that can be so simply labeled, however. Instead, he isn't over-imaged visually, and his musical style changes depending upon the mood of his songs.
Listening to commercial radio may convince you these are the last days; so much of it is so bad. Therefore, the world needs more artists like Matt Kjeldsen, just to keep it sane. This sampling of his work proves he has a good thing going on.
https://www.mattsmusicbox.com/
-Dan MacIntosh