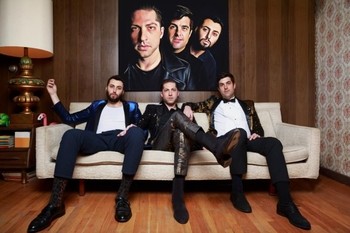 Today Mini Mansions reveal the new video for "Midnight In Tokyo", taken from their Works Every Time EP, released on September 28.
The video, directed by Will Goodan, finds Michael Shuman headed – where else? – to Tokyo to shoot the visual – "For a song birthed out of a life changing trip to Japan, it seemed only fitting to go back to the scene of the crime. This video was shot in one night out in Tokyo. We present to you the video for our new single "Midnight In Tokyo".
The Gorillaz-inspired track is at the heart of the band's new approach to songwriting. It captures the lifespan of a relationship, from falling in love to eventually breaking up, rooted in Michael's own experience. Whereas his life was previously very detached in his songwriting – hence their past material's more fantastical form – now it's very much at the forefront.
The band say "Inspired by true romances and real heartbreaks, this song came to life after an existential trip to Tokyo. This track is no deep cut, but it's content sure does cut deep. This is the second installment in the new Mini Mansions wave to come."