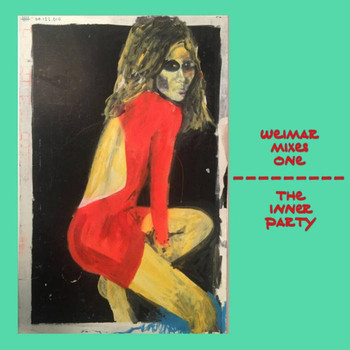 Have you ever been to Fayetteville, Arkansas?  Structured in the Southeast, a place where diamonds were discovered in 1906 by John W. Huddleston, or even where 102 different varieties of minerals exist, Arkansas has a lot to offer toward the history of the United States.  Even more, there is something brewing in the musical scenes and that something is none other than the band, The Inner Party and their new single, 'Stay Together For The Cats.'
Who are The Inner Party?  The Inner City consists of members':  Vocalist & Guitarist Keith Miller, Vocalist & Bassist Dave Morris, Keyboardist & Vocalist Bob Gaiser, Drummer & Vocalist Jacob Arnold, and Guitarist & Vocalist Sean Johnson.  All from the Fayetteville, Arkansas area, there is something moving about the newest single 'Stay Together For The Cats.'  But what is intriguing is the female vocalist that sparkles and shines on this unusual song!  Gorgeous vocals would be an easy attribute to the mysterious voice…
At first listen, The Inner Party have a really unique sound that puts them in a category of artists like Kiah Victoria, Coldplay, Joliette, Kimbra, and Moses Sumney.  Usage of the crossover 80s themed synthesizers to the very hip-hop 808 beats makes this unique band have a coming that doesn't prepare its listeners. And the greatest part is the mysterious female vocalist that catapults the warmth of the band so quickly that nothing brings her back to planet earth even after the song ends!  Note to band—Make HER a permanent fixture!
Opening the song, the beginning sways with a flowing bells ensemble along with a harp and a togetherness flow from the movement of the chords all the way through the first verse where the mysterious vocals yield almost spooky as she speaks with a direct tone.  Direct lyrics state that she is "We have to stay together for the cats…  I said forever and I mean that…I used to think I cared about dignity, but you're the only thing that matters…" Powerful words as there are so many people that want the ones they love to stay together.  Metaphorically speaking, Cats could be friends, family, or the ones that we all especially love and The Inner Party have mixed a blend of rock, pop, punk garage, and hip-hop to bring the message clearly across.  The message is a simple one:  Stay together and keep unity as UNITY unites ever the weakest at heart.
All in all, The Inner Party are a band on the rise that should truly be listened to over and over again. And it would be very interesting to see just what the opening stage would look and sound like as there is enough guitar to go around, however, the live synthesizer and string arrangements in the catchy 'Stay Together For The Cats' might simulate that a live orchestra could actually be what separates them even further as there is no telling what would happen in a live show.  This band comes highly recommended and the unique sound is one that needs to be heard in today's music scenes!  If you are near, catch The Inner Party in a live show!  It will be a rewarding and intriguing one to see all together!
https://theinnerparty.bandcamp.com/
Rating 9 / 10
By Kim Tibbs