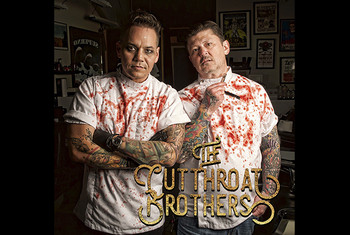 They've been called "the Sweeney Todds of rock" – and The Cutthroat Brothers make good on that tag. They're a pair of demon barbers with a razor-sharp riffs and dangerously catchy songs, and their bloodthirsty brand of garage punk has been ripping up the Pacific Northwest for the better part of 2018. Frontman Jason Cutthroat and drummer Donny Paycheck are renowned for their tonsorial skills. They're storming out of the barbershop with an eight-song debut and accompanying music video that demonstrate they're just as handy with ringing choruses as they are with straight-edge razors.
If you're at all familiar with Pacific Northwest underground music, Jason and Donny may be familiar faces to you. They're both veterans of a regional rock scene that has always made national reverberations. Donny Paycheck hit the skins for Zeke, a wonderfully brutal hardcore band that played with Pearl Jam, Iron Maiden, Mudhoney, and many other renowned acts. To make their debut album, the duo called on a Seattle legend – Jack Endino, the producer and engineer who was behind the boards for Nirvana's Bleach. They've captured a sound that is at once diabolical and alluring. It couldn't have come from anywhere but the Northwest.
"Kill 4 You", the lead single, makes Jason Cutthroat's intentions clear: he's out for love and for blood, and not necessarily in that order. Over a sinewy guitar riff and a monstrous backbeat, he purrs a come-on with a lethal undercurrent. Like the other songs on The Cutthroat Brothers, "Kill 4 You" is immediate, arresting, seductive, and liable to get lodged in your head. It nods to the greats of Seattle's rock past before slashing out in its own venomous direction.