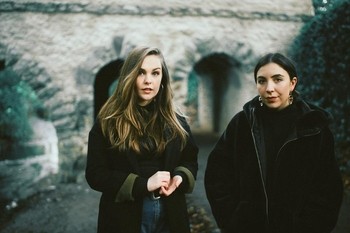 Today Irish electro-folk duo Saint Sister release their debut album 'Shape of Silence'. The album is inspired by the connections between people, and the conversations borne from figuring yourself out in relation to another person.
Of the album, Saint Sister say: "This record is the culmination of the past 4 years of making music together and navigating our 20s in Dublin. 'Shape of Silence' comes from an interest in the power and weight of silence – how heavy it can feel. It is a nod towards the use of space in our music; what can be said and felt in between the gaps."
Saint Sister's debut brilliantly presents their ability to create a unique blend of electronic, folk and pop. Exploration of the capabilities of the Irish harp – experimenting with effects and loops pedals and blending with subtle electronica – opened up the pathway to the sonic palette of this record. It opens with 'The Beginning'; an elegant and ethereal track that celebrates the freedom and conspiratorial magic of a brand-new relationship (which we follow over the arc of the record). Next is 'Twin Peaks', a soundscape of luscious vocals and glistening Wurlizter, showcasing the bands skill in crafting relatable and honest lyrics. The start of the album feels more whimsical, optimistic and inquisitive but that atmosphere starts to change, and the songs begin to fracture becoming a little darker; more
self-aware and lonelier while the relationship, which began with all the hope and promise of something new, becomes undone.