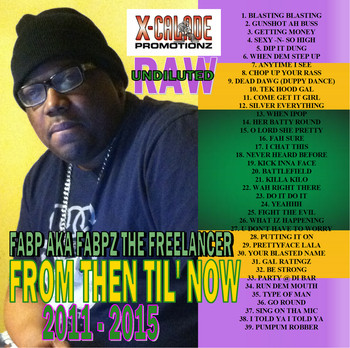 This is the third time reviewing Fabp going back to July 2018 as he seems to have quite a hefty catalogue of music.  The Freelancer is able to whip up lyrics & beats at the drop of a hat!  Fabp offers listeners a whopping 39 tracks on this Mixtape titled 'From Then Til' Now 2011-2015′.
The NYC rapper is the epitome of DIY musicians and New York, Underground hip-hop giving you a slice of that unrefined, Big Apple pie.  The style is raw as hell with no special gimmicks or enhancers layered over the recordings.  Fabpz the Freelancer cuts right to the chase and gives it to you straight on the new Mixtape.  The overall theme seems to have a party-like atmosphere where Fabp invites you to the dancefloor to get your groove on.  I even picked up on elements of reggae based on Fabp's vocal tones at different times throughout the 39-song set.  Adding to that get-down-and-boogie sound, the touch of reggae influence adds some extra flavor and island feel.  What you have here is unfiltered, unrehearsed street jams brought to you by the free-spirited Fabp Aka Fabpz the Freelancer.  And just like before on the previous reviews, I simply love the old-school flavor Fabp is bringin' to the table.  Just like The Beastie Boys were "bringin' back that old, New York rap" on the track "Alive" (RIP MCA), I feel The Freelancer is also looking to take you back to the Golden Age of Hip-Hop.  Spillin' rhymes and keepin' it simple is the name of the game for Fabp.  With four years of original material and homegrown, citified beats, The Freelancer proves to the audience that there is never a dull moment on 'From Then Til' Now 2011-2015′. 
Fabp has plenty to rap about as he's firing off lyrics at will and taking names.  This large collection of tracks showcases Fabpz the Freelancer as a one-of-a-kind MC who is on a mission to normalize and simplify the rap form to what it once was back in the day.  'From Then Til' Now 2011-2015′ is a true labor of love for Fabp aka Fabpz the Freelancer and I'm sure the project will receive recognition from fans of real-deal hip-hop music.
By Jimmy Rae (jrae2att.net)