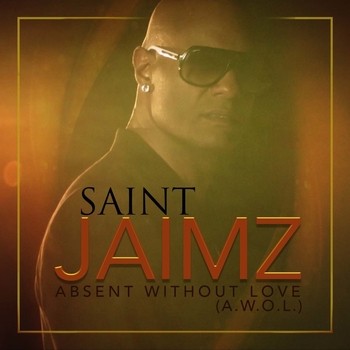 You can never predict what unusual turns a life may take. Nearly two decades in the United States Army didn't suggest Saint Jaimz would say goodbye to military life and embark on a musical career, but his participation in a military talent show while stationed in Germany lit a fire in his life that the following years have only fanned hotter and higher. His latest single "AWOL (Absent Without Love)" definitely stakes out a classic R&B/soul sound as its musical territory and everything in this song is calibrated for maximum effect, yet tastefully. Stylishness is a watchword with this song and it's in full effect from the first. "AWOL (Absent Without Love)" falls firmly in step with Jaimz's avowed intent to craft "life songs" rather than "love songs" – this is a track that fully affirms the importance of the human heart in our daily lives.
Saint Jaimz's vocal glides throughout the entirety of the song and employs phrasing talents that elevate the song's lyric into the realm of performed poetry. It isn't a song that intends on reshaping your idea of what music can do, Saint Jaimz is working well within the boundaries of an established tradition, but he brings his own personality and charisma to bear on the form in such a way that "AWOL (Absent Without Love)" stands out as a wholly individual effort rather than just some cookie cutter riffing in a familiar genre. His singing leaves it all on the table, yet never overextends itself trying to curry favor with the audience. The most important aspect is that he makes you believe; this isn't just a mere performance, it's an expression born from his experiences and teeming with life.
The musical backing has a light, gossamer like touch, but there's a definable groove carrying the song forward. Saint Jaimz's song is well served by its backing track and if there's any part of this handled by pre-programmed music, you can't tell. "AWOL (Absent Without Love)" has a satisfying live sound that makes the track sound like it's ready for a seamless transition over to live performance. The first track spontaneity of Saint Jaimz's vocal feeds off the arrangement and it's easy to hear why – it's lush and there's a lot going on musically, but it never sounds cluttered or overwrought. Instead, the same finely calibrated feeling mentioned in the introduction exerts its influence once again and there isn't a misplaced or excessive note to be heard during the song.
The song has a near ideal running time, the production is five star throughout the whole tune, and Saint Jaimz definitely invokes 90's soul and R&B with a modern sheen. His fundamentals extend back even further, however; Jaimz has an innate understanding of what makes for memorable R&B/soul and works well within a band context. Despite being a solo performer, you never get a sense that he's dominating the proceedings when you hear "AWOL (Absent Without Love)". His new single will, undoubtedly, expand his artistic profile and promises to expose his music to a wide new audience while still remaining faithful to the sound in his head and, most importantly, heart.
AMAZON: https://www.amazon.com/Absent-Without-Love-Awol/dp/B079TLDVS3
Music Publicity Services @ Danie Cortese Entertainment:  "Building names, Building brands, Building bank accounts" Visit us here: www.daniecorteseent.com
Gwen Waggoner