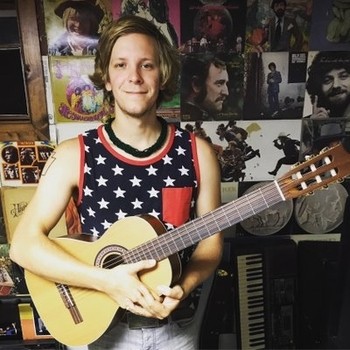 Shane Palko's biography describes the performer as an "alternative folk musician and socioenvironmentalist." He's traveled a lot internationally and has already released nine studio albums. Speaking of mobility, the song that opens the Pick Me Up album is "Traveling / Wandering," which meditates upon the differences between traveling, and mere wandering around.
With "Circus Dog," Palko sings an ode to friendship. He's not out for decadence with his buddies, though, as he invites them all to bring over some veggies to make curry. No whiskey and wild women for this guy.
Lyrically, many of Palko's songs follow a kind of stream of consciousness. These are not always tight, three-minute pop songs. Instead, they're oftentimes rambling, folkish exercises.
Palko's role as a socioenvironmentalist has enabled him to partner with multiple not-for-profit groups, which push to make positive changes in folk's lives. These efforts have taken him as far away as Africa, Asia and Australia. This makes Palko the real deal, so to speak. Folk music was once intractably linked to progressive social causes. If you sang and played folk music, this seemingly automatically made you an activist. Such is not always the case these days, though. Folk music has become a sort of synonym for acoustic music. Morrissey once bemoaned, "I thought that if you had an acoustic guitar/It meant that you were a protest singer." Many of us, like Morrissey, have found that that is not always the case. Nowadays, an acoustic guitar might just mean you sing gentler romantic songs, and not even touch social/political causes.
With that said, though, much of Palko's music leans toward the softer side of the spectrum. "Captain Dan," for instance, includes warm, accompanying fiddle. It sounds a little like classic Van Morrison music. Only in this case, Palko sings with a twee voice, in contrast to Morrison's vocal full force gale.
One titled "Time Travel Politics" sums up Palko's calling in only three words. The moody song is built upon an acoustic guitar part that bears a strong resemblance to some of Bruce Cockburn's early, folkier efforts. In contrast, "For Juniper" takes those same acoustic guitars, and creates a jazzier groove. Not only is "For Juniper" jazzy, it's also an instrumental. You can hear a few of Palko's world music influences come through during the complicated arrangement to "Jenny Wren." It's lyric, though, is fairly straightforward, and saturated in regret.
Shane Palko is never going to bowl you over with his music. He's not the type to raise his singing voice to a shout or pack in loud, electric guitar solos. Instead, he's like a musical still small voice; one you need to quiet down and concentrate upon to fully appreciate. Once you make that effort, though, this serious, and seriously gentle soul has much to say. He's not just a guy that forms his opinions through reading the New York Times editorial section. Rather, he puts his money where his mouth his, buys plane tickets and visits countries all around the world to get first-hand views. Who knows? Pick Me Up, the album's title, may just have been inspired by a conversation he had with his Uber driver when arranging one of his many trips to the airport.
-Dan MacIntosh