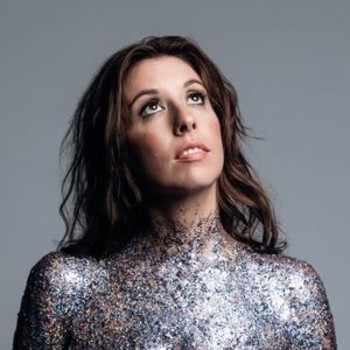 With a countrified guitar lick serving as her salutation, Sarah Clanton pulls us into her orbit with the song "I Can See You," the opening track of her incredible new album Here We Are. Over the next three minutes we listen to Clanton dispatch the most enchanting melody of 2018 like she's reading us a recipe out of a cookbook, and it's only the beginning of the gorgeous sonic journey that she's about to take us on. "I Can See You" fades into "Come and Find Me," a pulsating pop ballad that uses a subtle jazz beat to capture our attention and keep it within Clanton's grasp for the duration of the track. For the listener who has been searching for music that stirs their thoughts whilst invoking a curious sway in their hips, Here We Are was designed with you in mind.
"We Belong" and its cello clad successor "Slow it Down" could absolutely dominate the pop, jazz and adult contemporary charts simultaneously, but not even their harmonious twists and turns can compete with the wild animal that is "Head Games." Indie pop has been needing some new leadership to guide it into the next decade without losing any of its DIY credibility, and Sarah Clanton shows us all that she's more than able to handle the job in this song. She's got the charisma of a mainstream pop singer plus all of the authenticity of an underground rebel, which isn't exactly a combination that you find every day in this business.
"Can't Find the Words" sees Clanton continuing to experiment with her cello and the unforgiving tonality that it adds to this record before making way for the marching "Silver Lining," which offers up the most psychedelic-tinged sound of her career. "Breathe In  Breathe Out" comes outfitted with an echoing string arrangement that recalls The Police's most avant-garde moments, but once "On Repeat" rolls out Clanton returns to a more straight forward narrative to round out Here We Are. The garage rock dirge of "Bang Bang!" bursts through the wall of sound left standing in "On Repeat" like a giant boulder being hurled through a plate glass window, but its carnage is reconciled within the glimmering slow step of "Hello," another song that showcases Clanton's unrivaled skills as a vocalist.
Here We Are comes to a conclusion under the boundless sunshine of Clanton's cover of the 1967 Brenton Wood single "Oogum Boogum," which matches the audacious grooves of the original songs on this album with its own stone cold melody that lives up to the '67 cut surprisingly well. When the track stops and we're left to analyze all twelve songs that we've just consumed, it's hard to deny that Sarah Clanton hasn't just made the magnum opus of her career, she may well have made a record that could change the look and sound of music forever. This is her Rubber Soul, her foray into mainstream pop, and most importantly her first truly epic contribution to the international songbook. Five out of five stars for Here We Are; if you're keen on new music, this is required listening.
INSTAGRAM: https://www.instagram.com/sarahcello/
Gwen Waggoner