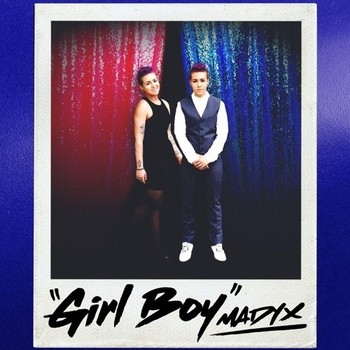 Madyx's "Girl Boy" is an intentionally line-blurring single. Its first verse begins with the singer/songwriter stating, "I never had a boyfriend, kiss me like a girl can." Not only does she point to Katy Perry as an artistic inspiration, but she's also released a song that sounds like a cousin to "I Kissed A Girl." It's a timely song, as gender roles are a hot social/political topic these days, and almost certain to gain Madyx some attention.
The song begins with Madyx repeating 'girl boy' in a little girl-ish voice, before she hits the song's first verse. She then goes on to describe a girl that – in her words – blurs the line by dressing like a boy. Maybe she's attracted by this toughened look. Or, perhaps, she's drawn to the rebel in that girl.
The song is a combination of high-tech dance elements, which are applied to a pounding rocking groove. It's a song that will find an immediate audience in the LGBTQ community because it expresses the wide varieties in sexual attraction. Madyx is not trying to legitimize this attraction, though. Rather, she's just coming out and singing about the way she honestly feels, without worry or concern about how listeners will react. She knows well that the ones who appreciate its message will find it quickly and relate to it.
Madyx may already assume her audiences is out their waiting for a song like this one. Nevertheless, she sings it like an anthem. She is confident, assertive and straight to the point. One can imagine her audience singing along with her on it in concert. It even features a wordless "Whoa-oh" chorus that is catchy and readymade for singing along live.
This track is not only about a message, though. Madyx is a strong, skilled singer, which means she can easily pull off its performance. She may not be a powerhouse singer like P!nk (yet), but she's headed in that performer's direction, artistically. "Girl Boy" brings girl power up to a whole new level.
-Dan MacIntosh