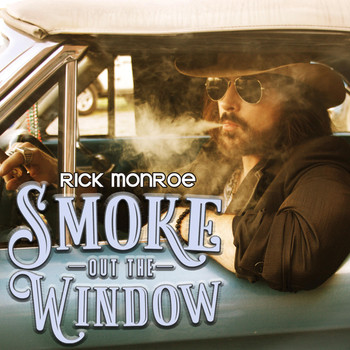 Rick Monroe goes for an acid-fried country flavor on the rollicking rock n' roll of "Smoke Out The Window". Sung with fire and fury, the whole of the album barrels forward with an intense energy. Throughout the whole of the album Rick Monroe draws from soul, the blues, garage rock, and country in a fantastic way. By far the true heart of the whole album comes from Rick Monroe's unruly vocals. Lyrics further emphasize this loose, carefree attitude. Proving to be a deft storyteller, Rick Monroe sings songs for the underdog.
Reminiscent of Captain Beefheart's intensity is the colossal opener of "Good As Gone" where the piece has a passionate, all-consuming sound. Volume deserves to be blasted for the whole of the track has a physicality to it. On the title track "Smoke Out The Window" Rick Monroe sings universal truths with a strong, sly sense of humor. A gorgeous buildup comes into the fray on the majestic "Nothing To Do With You". Winding things down a little bit is the gentle "I'll Try". Nighttime atmosphere rolls through on the powerful grooves of "Stomp". Truly a joy "This Side Of The Dirt" has a strong sense of purpose, making it the album highlight. Letting things slow down a bit for a sense of introspection is the autumnal "October". Effortlessly closing the whole album is the gentle "Tempt Me".
"Smoke Out The Window" taps into a defiant spirit, one that feels so independent, revealing Rick Monroe to be a creator of fine, feral worlds.
By Beachsloth